There are trips that come only once in our lives, this trip was a marvel, a dream that I had been planning for a long time;
That is why I want to give you all the information you need to know about Peru, the most visited country in South America, because here you will find one of the 7 wonders of the world, Machu Picchu;
Doing this tour in 2 weeks for us was a real luxury, in the following lines I will explain why I am so enthusiastic when I tell you all this.
Travel Guide to visit Peru for 2 weeks
In this travel guide I will leave you everything I could experience during my visit to the different attractions of this beautiful country, I tell you that I went to visit:
Lima (Capital of Peru), Ica (Paracas, Ballestas Islands, Nazca), Arequipa (Chivay, Colca Canyon), Puno (Lanchón, Taquile), Cusco (Chinchero, Moray, Maras, Ollantaytambo, Aguas Calientes, Machu Picchu, Ollantaytambo, Pisac).
Why visit Peru in 2 weeks?
Well, as I told you at the beginning to know a country, a city, its gastronomy, to know its culture is a luxury, the experiences lived have been one of the best things that I take with me from this beautiful country.
If you are planning to come or surely want to come back again, then don't think about it anymore and come for one, the country is safe, has a diversity of food, places to go and things to do so it is difficult to get bored, moreover its people are very charismatic and warm;
What is the best date to plan my trip to Peru?
You have to take into account this information before traveling to Peru, because this country has a diverse climate, so it influences a lot in which months it is better to go or are not recommended, but this will depend on the attraction you want to visit.
For example:
If you are going to visit the southern part of the country, then keep in mind that the dry season starts from April to mid-October, from this month until March the rains are prolonged, remember that visiting the different parts in these seasons can be dangerous.
Well, if you are going to visit the coast then try to do it in the month of December to March, because it is in these months where they are in summer and the weather is more pleasant, with this I mean that the other months too, but these are my favorite months.
Now we are in the northern part or jungle, the season with little rainfall is from April to October, and with a lot of rain is from November to March.
If you are planning your trip around this time, please use these references as a guide.
Day 1: Visit Lima
This is our first day on Peruvian soil, we arrive around noon. We transfer to our hotel and take a tour through the streets of the capital of Peru - Lima.
The place has colonial mansions, palaces, convents that still preserve their buildings, we could also find restaurants, street food, markets, etc. endless shopping malls, squares and tourist spots that you must go if you are here.
What to see and do in Lima?
There are many things to see and do in the capital, to know much of Lima- city of kings you would have to stay a few days, but I will detail some of the destinations you can visit:
Huaca Pucllana, this archaeological complex belongs to the pre-Inca civilization from the year 200 to 700 A.D., it is characterized for being a mud construction, from the top you can see that it has squares, patios, and more that belonged to the Lima culture;
Visiting hours are Monday, Wednesday, Friday, Saturday and Sunday from 9:00 am to 4:15 pm.
Parque del Amor, this attraction is made specifically for lovers, because when you walk through the square right in the middle there is a famous sculpture "the kiss" made by sculptor Victor Delfin and a flower garden in the shape of a heart. I advise you to visit it in the afternoon when the sun is going down, because from the site you can see a beautiful view of the Pacific Ocean.
Parque El Olivar, is very popular among locals because it is a place surrounded by olive trees where people come to rest, feel calm, here you can picnic and more.
Basilica Convento San Francisco, what is surprising about this place are the catacombs, a cemetery in which there are many graves, it is estimated that there are about 70,000 burials, you will also find paintings, books, unique ornaments.
Museum of the Central Reserve Bank, is another site that you must visit if you want to know a little more about the economic history of the country, because it exhibits materials from the pre-Hispanic period to the present. In the place we find several rooms where archeology, Popular Art, Contemporary Art, is the coin collection among other rooms that you should really see them yourself because they will leave you surprised everything that is inside;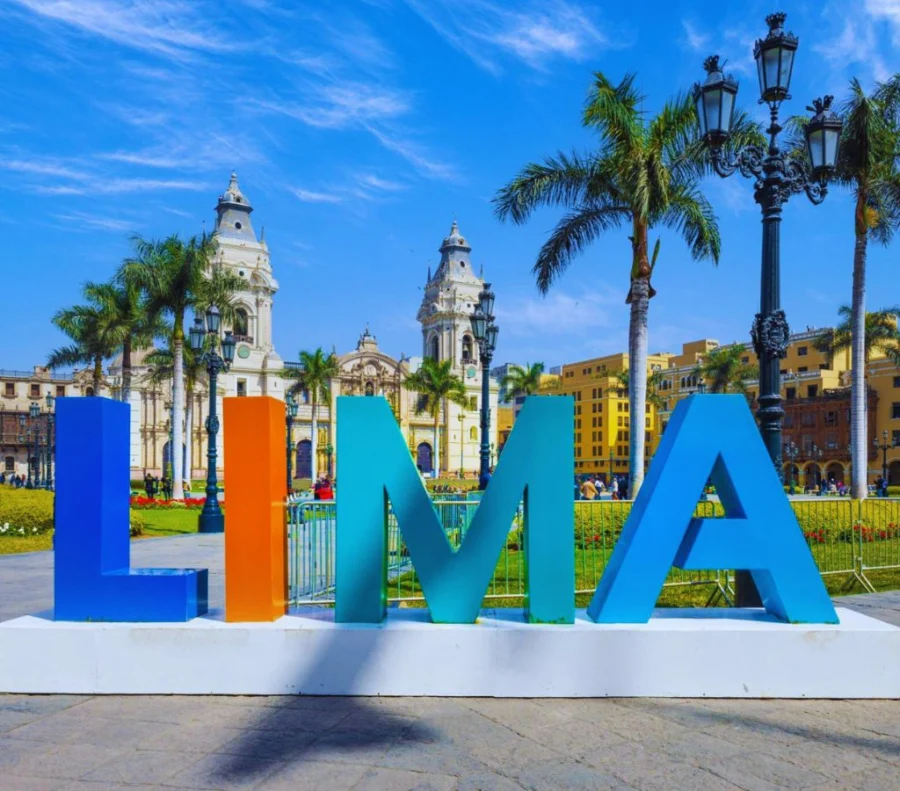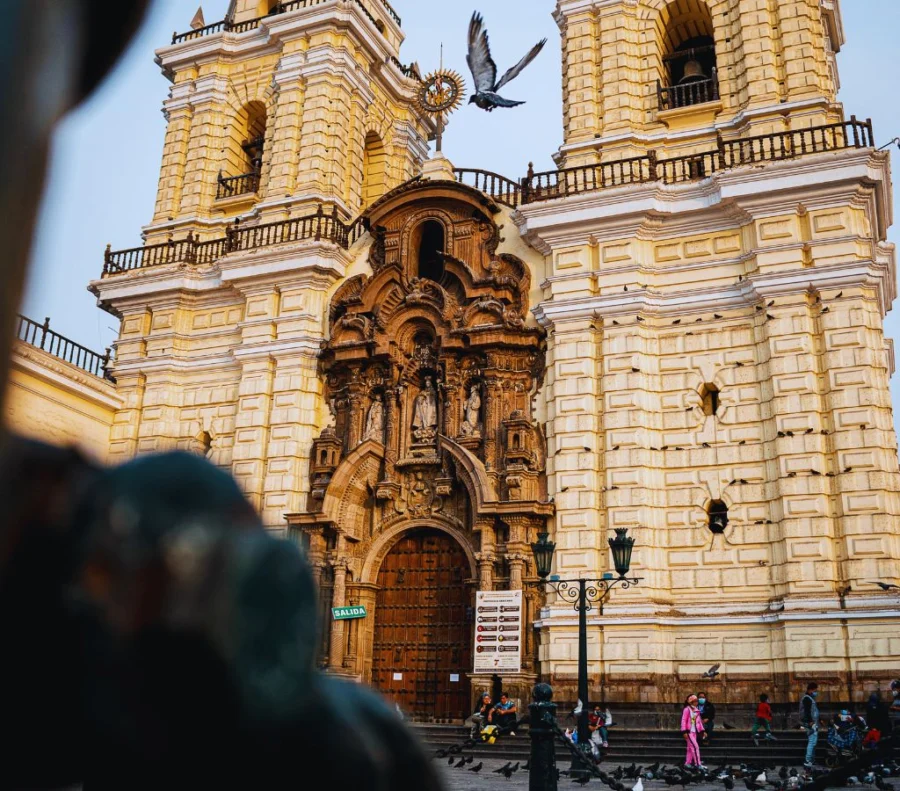 Where to eat?
To be honest we did not stay long in this city, but you can go to the restaurants located in the city center - Plaza de Armas that have a variety of prices, among the dishes they offer ceviche, lomo saltado, aji de gallina and causa rellena among other recognized dishes of Peru.
We stayed there to prepare them and we had no regrets at all, everything was delicious and still at a good price.
Where to stay?
Specifically I don't have a favorite place, but I advise you to look on TripAdvisor or on the website for the comments left by previous guests, because being the capital city there are several places to stay.
Another option you can choose is Airbnb, they are houses that you can rent for a day or more and it is a quieter place for you to rest, as well as this there are several options you just have to look for.
My Recommendations
I recommend that you have Peruvian coins, as most establishments only accept Peruvian currency.
If you are going to visit the different attractions in Lima, I recommend that you make a list before visiting them, and if you are going to stay a few days longer, try to book in advance the place where you want to stay.
The means of communication is very important, you should know that in Peru the official language is Spanish and when you come from another state and speak a language other than Spanish, most likely they will not be able to understand you; because of this I recommend that before coming you speak some phrases or sentences in Spanish so you can communicate with them.
Most of the year in Lima is summer, so wear appropriate clothing and sunscreen.
Day 2: Ica, Paracas Bay, National Reserve
Our next destination is Ica, is located on the Peruvian coast is characterized as a desert coast perfect for those who love the heat, extreme adventures and the same nature, perhaps the city itself is not very
During our visit to Ica, we will go to the Paracas Bay, Paracas National Reserve, one of its great attractions.
What to see and do in Paracas Bay, National Reserve?
Surely you will be shocked as I was, as they say the first impression counts and this is no exception, because when I arrived at the place I was fascinated by so much natural beauty that Ica has, but I'll stop telling you more and explain in detail everything I could see.
Paracas National Reserve, is characterized by its red sand and in front of it is a beautiful beach, but we all wonder how red sand, yes, the reddish color tone is due to the volcanic activity that took place thousands of years ago. After seeing the entire reserve the final point of the tour is at Lagunillas beach where there are a variety of restaurants that offer ceviche, in the distance you can see sea lions, birds, insects and more that live in their own nature;
Definitely, these places left me amazed by so much beauty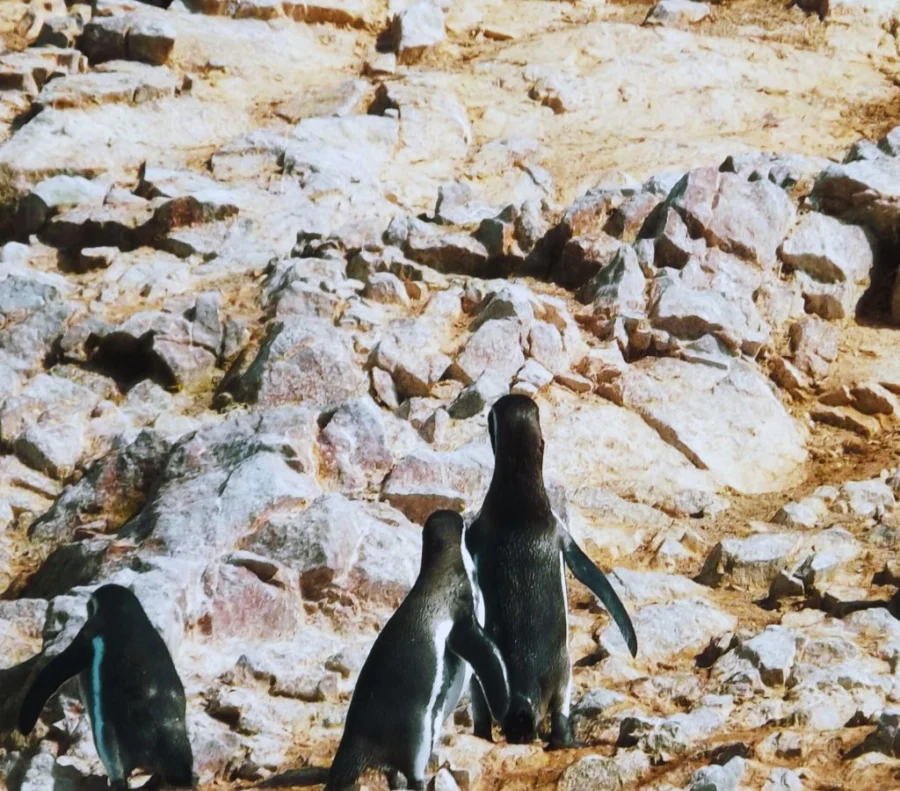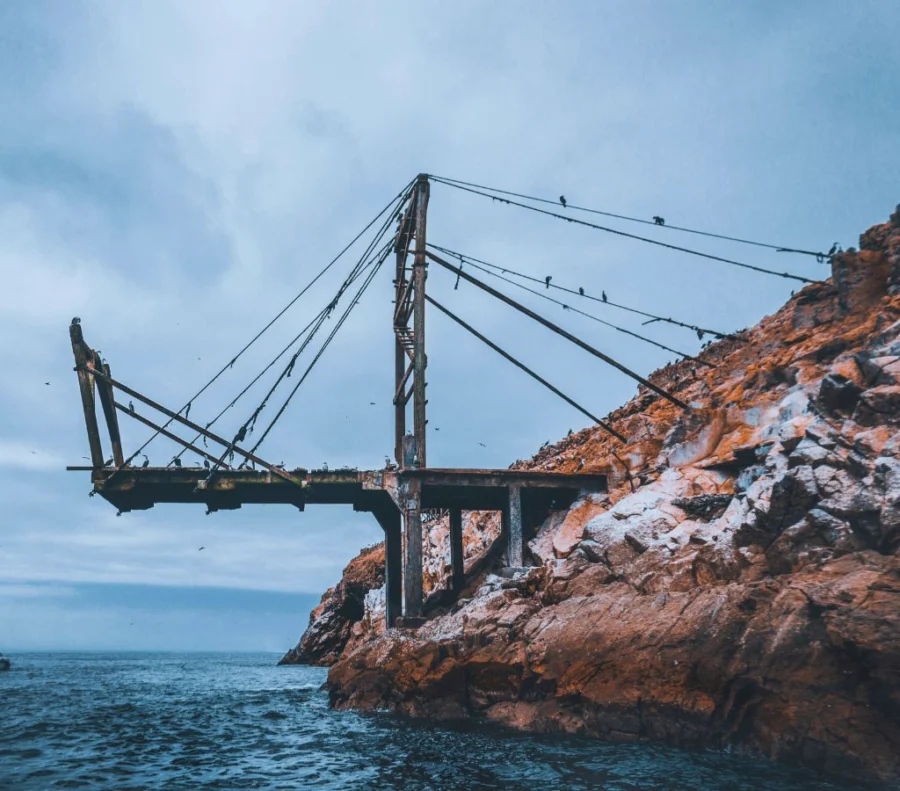 Where to eat?
As with any destination, prices are always a little higher than in the city, here you will find Creole and marine menus from 20 to 25 soles.
Where to stay?
There are several lodgings ranging from three stars to more, but there are some budget hostels, it really depends on your comfort.
My Recommendations
As with any destination, prices are always a little higher than in the city, here you will find Creole and marine menus from 20 to 25 soles.
I advise that if you are going to visit Paracas and the islands you should buy a promotional entrance ticket which is more economical;
Always ask for other options, this goes more for restaurants and hotels, as some can be expensive.
Make the most of every adventure you experience in each tourist area.
Please note that food and pets are not allowed in these places.
Day 3: Ballestas Islands, Huacachina Oasis
The next day after visiting Paracas, we continue with our visit and continue touring the attractions of Ica, this time we decided to go to Ballestas Island an unforgettable destination, then we go to Huacachina another amazing attraction in the middle of the desert.
What to see and do in Ballestas Islands, Huacachina Oasis?
Isla de Ballestas I loved this place because I could see a variety of species such as birds, mammals, reptiles, fish, its beach is already very beautiful. During the trip you can see the hieroglyph of the Candelabro that has a measure of 150 m and are related to the incredible Nazca Lines.
Once in the Ballestas Island or "Peruvian Galapagos" we will see the largest guano that Peru has, at least 20 tons of guano are produced per year and are collected manually every 7 to 10 years.
Here you will be able to see a variety of species such as sea lions, pelicans, and a diversity of birds, which can only be seen on a boat ride.
Huacachina Oasis, surely you have already heard about this destination, a lake in the middle of the desert. It is only about 10 minutes from the city of Ica, you can go by cab or mototaxi, once you arrive at the place there will be several tour operators offering their services.
I advise you to look for the best option, because I opted for a 2-hour tubular package, with spaces for photos, sandboarding and a tubular ride, you must keep in mind that the entrance ticket to the dunes has an additional cost of 3 soles and we must pay before enjoying.
When you are inside you will love the scenery, the ride on the tubular that goes between the top and bottom of the sand that makes you feel like you are falling or flying at the same time, a unique experience indeed. Also the ride down on the sandboard is wauu….fantastic.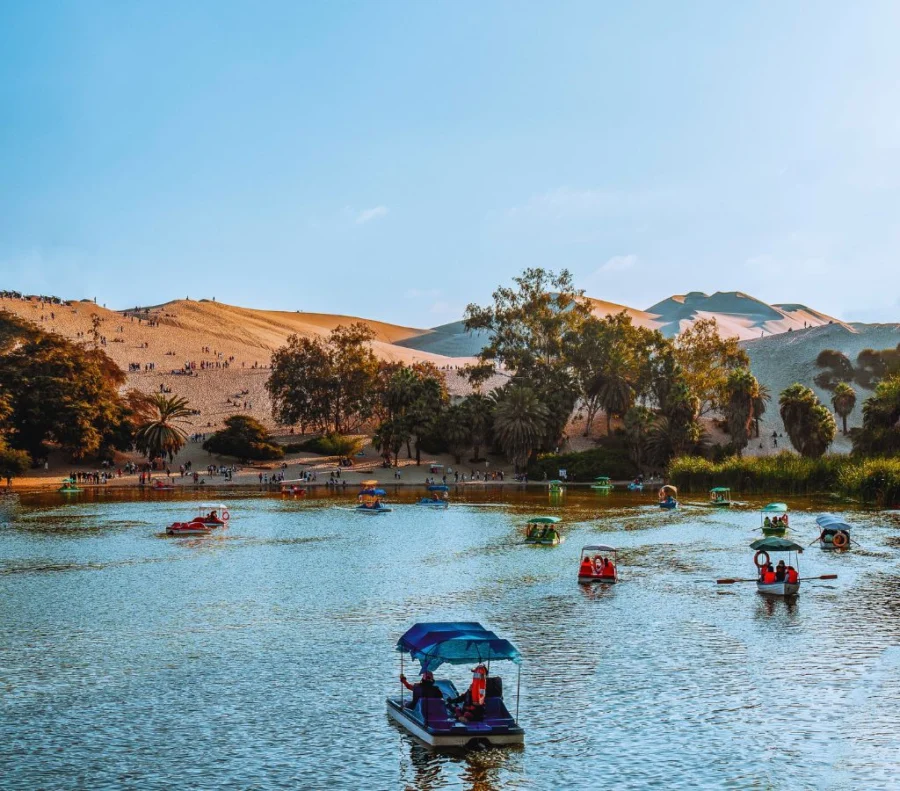 Where to eat?
There are several restaurants where you can go, you have two options you can eat one can be in the same city of Ica where there are a variety of prices, the second is to eat in Huacachina although you must take into account that being a tourist place the costs of lunch or other food. But always look for, there are good options, it is not looking for something cheap and it can be expensive, it can be intermediate or asking the locals what is the best place to eat.
Where to stay?
The vast majority of travelers visit Huacachina for only one day and return to Paracas and continue their trip, but if you have more time then enjoy the nightlife in Huacachina;
Preferably look for a hostel, because they are cheap and nice, many of them are complete and there is nothing to complain about, at least I stayed in one of them and if they are comfortable, now the lodging is a little more expensive because the service is more private.
My Recommendations
If you don't have a contracted tour agency, don't worry, you will find several tour operators in the area.
Organiza bien tus horarios y puntos de viaje antes de partir.
Wear appropriate clothing, remember that in this part of the city it is too hot.
For the heat, bring a hat, sunscreen and water for hydration.
Preferably visit between the months of December to March, as the temperature is warmer and there is no rainfall.
Day 4: Visit to the Nazca Lines
After having visited the other destinations of Ica, we are now going to see one of the great geoglyphs of Nazca, because around 300 geometric figures, 70 plant designs were found.
To better see the magnitude of the geoglyphs you must visit it from the air, it has an additional cost making it a luxurious ride.
What to see and do in Nazca?
You can see the different hieroglyphs, there are various forms of animals, plants and humans each with a different meaning that has attracted the attention of every tourist. Among the images are large hummingbirds, condors, heron, pelican, seagull, parrot, monkey, spider, snail, whale, dog, two llamas, reptiles, lizard, iguana, lizard, snake and more.
Nazca Lines Viewpoint, this is one of the ways to see the perfect hieroglyphs in the middle of the desert, it is a viewpoint that measures about 13 meters high from there you can see the three most emblematic figures of Nazca;
Another way to see the Nazca Lines is to fly over them, giving us a more complete and detailed view, as well as being safe.
To get to this place you must take a bus and tell the driver that you will get off at the Nazca viewpoint, when you enter you must pay a symbolic entrance fee;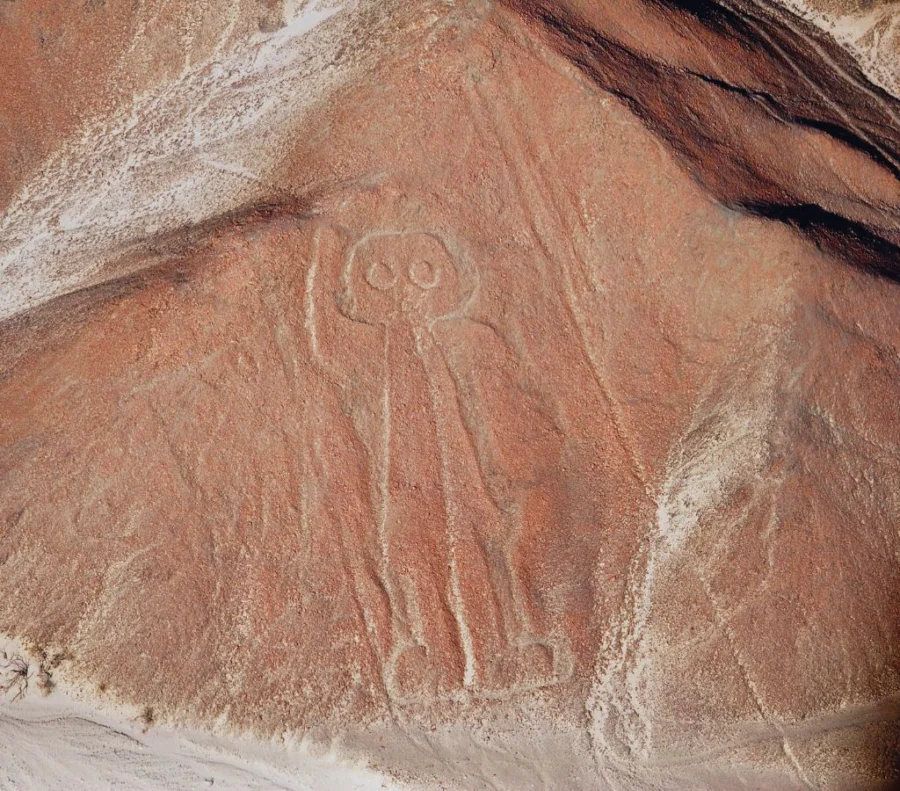 Where to eat?
As we know all places offer a diversity of typical dishes, therefore in Nazca you will find a variety of restaurants, one more known than others, offering typical local dishes such as charapana, seafood, carapulcra, dry soup, among others.
Where to stay?
Just as in Ica, those who visit the Nazca Lines return and continue with their trip, but if you choose to stay longer in Nazca then I advise you to look for a good spot, always look for options and give you the option to choose which of them is much better.
My Recommendations
Preferably organize your places to visit, and always have your identity documents at hand.
Before visiting each destination, I suggest you look for information, something that when you are visiting you will use to the maximum every time you have.
Lleva ropa ligera, recuerda que estás en la costa y ahí hace calor todo el día.
If you did not hire a tour do not worry, you will find several guides offering their services for the visit.
Day 5: Arequipa or Ciudad Blanca
Our journey continues, this time we go to the south of the country, the landscape will give us incredible views of the surrounding landscape. You should know that the White City or Arequipa is surrounded by three volcanoes (Misti, Pichu Pichu and Chachani).
Getting to know Arequipa is another of my favorite places, we will start by visiting the center of Arequipa, Yanahuara and other must-see places.
What to see and do in Arequipa?
Mirador Carmen Alto, is one of the most beautiful destinations, it has Inca terraces and at present it is still growing products. Also from here you can see the volcanoes Chachani, Pichu Picchu and Misti. If you are an adventure lover you can do canopy in the waters of the Chili River;
Mirador de Yanahuara, from this other viewpoint that has the white city you can see the three snow-capped mountains that surround the beautiful city, the arches are made of ashlar stone that characterizes Arequipa. Likewise, in each arch there are some thoughts of illustrious Arequipeños, then the square is adorned with palm trees and there are stalls where they sell ice cream cheese a delicious dessert.
Santa Catalina de Siena Monastery, this monastery is similar to a small town, because it has squares, streets, cloisters, houses and the floor is paved and belongs to the sixteenth century, it functioned as a religious center for those nuns from wealthy families. When you enter it you can feel and see how the women lived in this small citadel, in addition to each passage has a significant name for that time;
Plaza de Armas Arequipa, is another place you should visit, it is surrounded by arched portals that embellish its buildings, we also have to admire the main cathedral that was built based on the ashlar and what to say at night the color of the square has another aspect.
Minor Basilica of Arequipa, is one of the famous cathedrals of Arequipa, because inside it has a collection of works of art, and what is most striking is to see a penitent devil crushed by a main column against the ground, showing that God is cleansed from the darkness.
Compañía de Jesús, one of the oldest and most imposing churches in the city still preserves the baroque architecture of colonial style, inside you can see the carved pulpit or high altar covered with gold leaf and today this religious precinct is one of the most admired.
In short there are several places to visit, these are some of the places I could visit, if you are going to stay longer in Arequipa then you should go to the other attractions that this beautiful city has.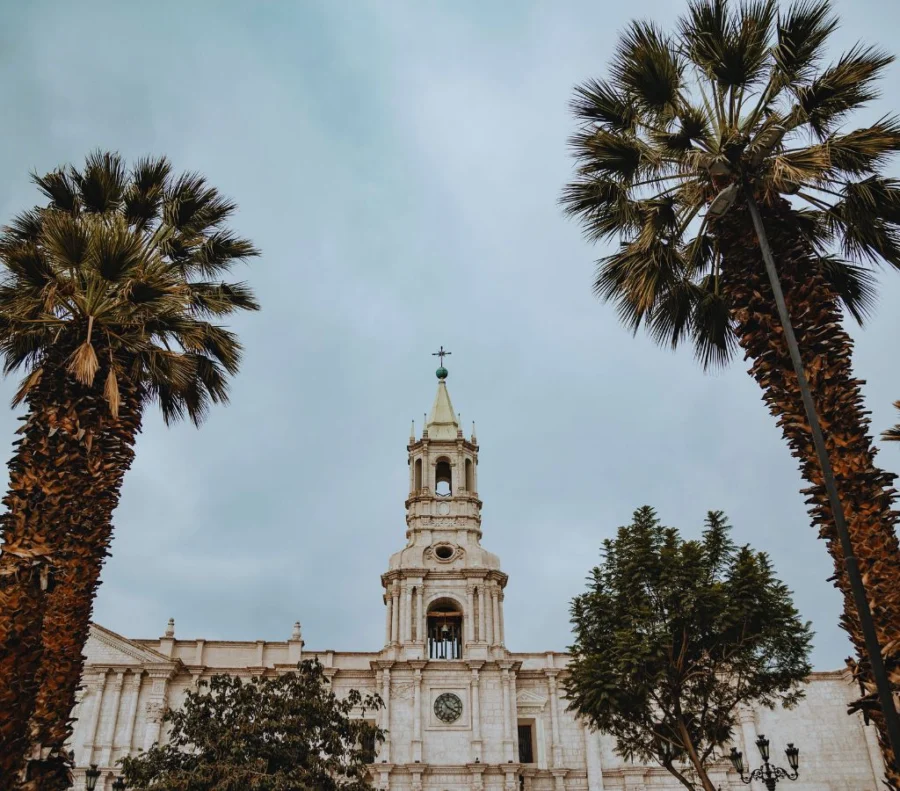 Where to eat?
As every city has several places to eat or taste Arequipa's delicacies, these are some of the places where I could go.
Mercado de San Camilo, is the oldest central market in the city, in the place you can find several typical dishes at a comfortable price among the dishes they sell are: rocoto relleno, adobo, caldo de gallina, ceviche, lomo saltado, suckling pig among others. You will also find flowers, clothes, shoes, shoes, fabrics, flowers and other products.
Picanterías, formerly there were these traditional restaurants where typical food was sold accompanied by its chicha de guiñapo, nowadays these picanterías offer delicious typical dishes all accompanied by its traditional drink, the chicha de guiñapo.
Where to stay?
Arequipa is a beautiful city to stay, so if you are going to visit on a certain date you must take into account as any other place if it is in high tourist season you may not find where to stay, but if you are traveling in low season then stay calm because if there will be more than one where to stay.
The types of accommodation that we can find in Arequipa are between a lodge, hostels and a room through Airbnb, the latter is the most practical and most comfortable to stay a few days in the white city;
My Recommendations
If you are going to visit the different attractions of this beautiful city, I advise you to always carry your identity card.
Preferably travel in the dry season from April to December, as you know Arequipa has a temperate climate and there is little chance of rain during these months.
I recommend that you better organize your route of visits.
If you do not know the places you want to visit, I recommend that you hire the services of an agency, you can find it in the center of the city, so do not despair.
If you are a foreign tourist, preferably change your currency for the Peruvian currency, the Peruvian sol, because most establishments accept the local currency.
Wear appropriate clothing, sunscreen, hat and don't forget to always have water and your camera to capture the best moments;
Day 6: Colca Canyon
To get to the Colca Canyon you must take into account two aspects, the first is to hire the services of a tourist agency and the other alternative is to go on your own, if you like to live new experiences then the last option can be good }.
The only route to get to the Colca Canyon is to go on foot, and along the way you will find, but first you must go to a certain road in a bus or cab, usually the cars leave you in the town of Chivay from this point you must go on foot to the Colca Canyon so we will go through several points. Here is what you will see and do in the Colca Canyon.
What to see and do in Colca Canyon?
Landscapes of the Colca, once you start your way through the Colca you will witness all the mountains that surround it, the curved shape that has by the course of the water at the same time you will see the terraced crops, which were used by the ancient settlers who inhabited these places the Incas.
At the same time you can see large volcanoes such as Ampato, Sabancaya, Hualca, Huarancante and Chucura beautiful hills that surround the landscape;
Fauna, in the course we will be able to see several animals that are in their natural habitat within the National Reserve of Salinas and Aguada Blanca, the animals that you can see are the vicuñas, llamas, alpacas, Andean flamingos.
We know more Chivay, is the starting point to the canyon and one of the most touristic places because here we can find several restaurants, hotels, as in other towns that are on the way to the attraction.
You are a lover of trekking, to reach the Colca Canyon is a hike, it will depend on you how many days you want to do it, you can do it in 1 day or 2, 3 or 4 days, well it will depend if you want to see more sites.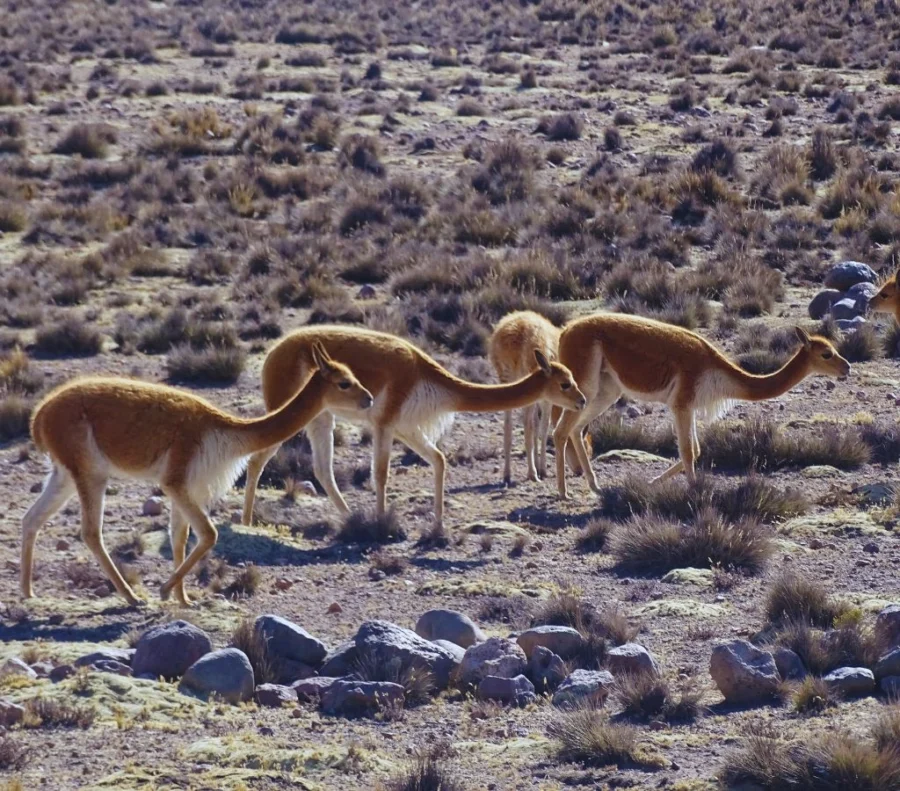 Where to eat?
As I mentioned before, several towns have restaurants that offer a variety of traditional or local dishes, however I recommend you to try the alpaca or llama roast, it has a peculiar flavor.
They also make meat stews and chupes, and if you love guinea pig ask for it as baked, roasted or stewed guinea pig, this will depend on how they are used to cook it, however all dishes are delicious.
Where to stay?
Do not despair, the towns that offer lodging are Chivay, Yanque and Coporaque here you will find from the most basic to the luxurious, now if you want a place closer to the Colca Canyon you can stay in the town of Cabanaconde, as they also offer lodging service and your visit to the viewpoint is closer.
My Recommendations
If you want to enjoy the whole valley and the Colca Canyon, I recommend you to stay at least one night and enjoy the sunrise;
Always wear warm clothes and another one for the heat, because in the evenings it is usually cold and by mid-morning it starts to get hot, so you should be forewarned.
You want to take pictures of every place, object or person, do it, but if you want to take pictures of a person always ask for permission before and don't forget the batteries of your camera.
Have your documents saved because somewhere you may be asked for them.
Bring plenty of water, snacks, sunscreen, hat.
Don't forget to take care of your feet, that's why trekking shoes are necessary,
Day 7: Cruz del Condor viewpoint - Chivay
The viewpoint of the Cruz del Condor is one of the most visited places in Arequipa and also one of the most beautiful places you have to know, it is also considered the second most visited tourist attraction, after Machu Picchu;
As you know the condor is an Andean bird, it measures an average of 1.30 m and can weigh about 12 kg, another fact is that it is one of the animals that flies higher and usually lives in the snowy is its habitat.
What to see and do in Mirador de la Cruz del Cóndor?
Flight of condors, here in the Colca inhabits one of the most majestic birds and revered by several pre-Inca and Inca cultures of the Andes "the condor". These give us a spectacular view, at dawn it is a spectacle because in the morning the family of condors fly over the slopes of the Canyon, so the view you will have there is incredible ... I lack words to express all that is lived.
Small market at the viewpoint of the condor, after having seen the majestic condors flying in the canyon, you come to the market that is just a few steps from the viewpoint, the ladies will offer you handmade clothes, souvenirs, hats, gloves and more.
Yaretas, this is a type of moss-like plant that you will see in the arid areas of the Ande, you will see them back along the road.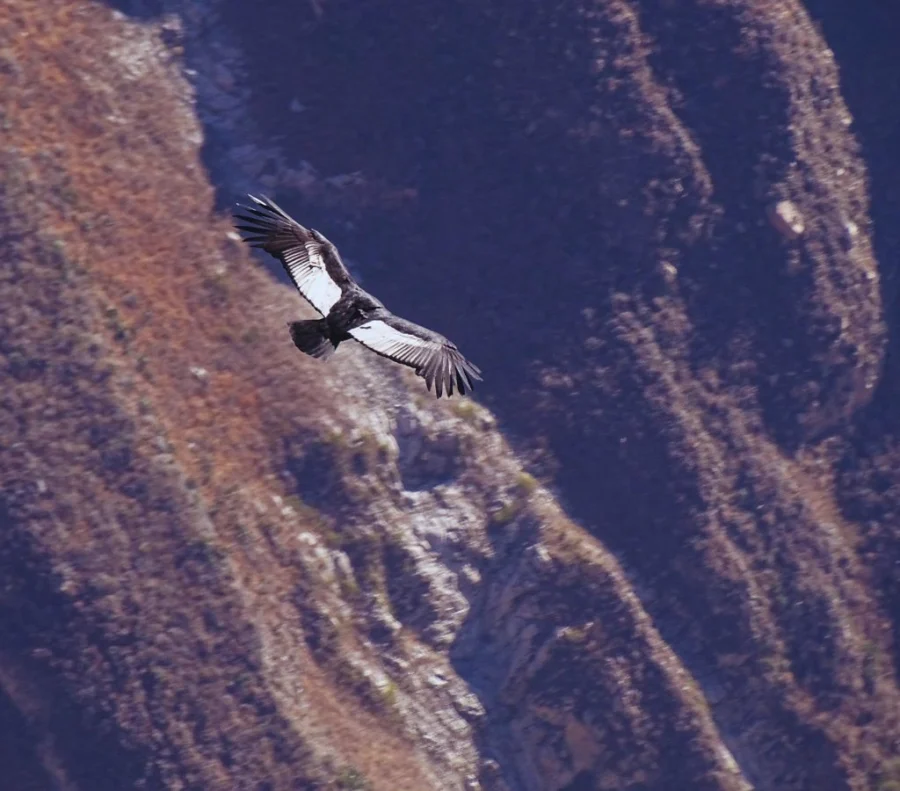 My Recommendations
Once at the lookout point do not shout, you may scare the condors and they will not come to the site to fly.
Have your camera loaded to capture the moment of flight of the beautiful condor, after all they are very special birds and considered as gods of the mountains.
Bring comfortable warm clothes, hat, sun block, trekking shoes.
Day 8: Visit the capital of Peruvian Folklore - Puno
After having visited the beautiful white city of Arequipa and having seen the great flight of condors we go to Puno, another town that offers other tourist sites to visit, but you should know that the route I chose is different from the routine, here I will explain the places I could visit;
We were really amazed with so much cultural, religious and ancestral richness that this town has and there are still many things to discover and experience, it is undoubtedly another of my favorite places that I have to visit again.
What to see and do in Puno?
Llachón, this is one of the villages that we will visit in Puno, it is the village of Llachón located on the shore of Lake Titicaca that offers us to do experiential tourism with them. From my experience it was very nice, because I was all the time with a family that was assigned to me, I could live with them and see their day to day.
The rooms are comfortable and have a view of Lake Titicaca.
Visit the crops and pasture, see how they carry out their daily activities.
Go to the Llachón viewpoint, it works as a lookout to see the Taquile Island and other mountains of the country.
You can also take a ride on a boat or kayak.
We go a little bit to the tradition of this town and I think that in much of the south also do, depending on the date you are part of the offering to the Pachamama or Mother Earth. .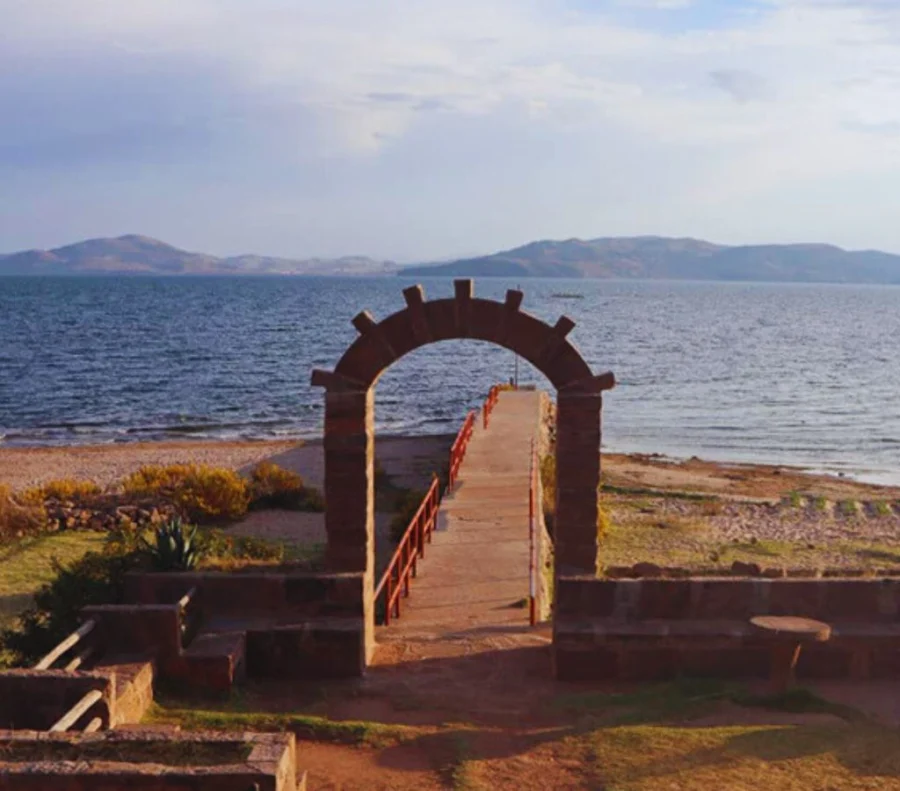 Where to eat?
On this occasion I had lunch in the village of Llachón, they prepared a typical lunch and we enjoyed it with all those who were also part of the group that visited the place.
Where to stay?
As I had already mentioned if you come to these villages, you have to do experiential tourism and usually they have a room prepared so you can be with them, their rooms are cozy, overlooking the lake this will depend on the point you go. And you must take into account that it is cold there so they will offer you a handmade llama wool blanket, vicuña, they are very warm and with beautiful designs, each room is well decorated perfect to spend one or two nights.
My Recommendations
Keep in mind that you are going to a place with an altitude of more than 3000 meters, so it is normal to feel nausea, headache or shortness of breath.
The first night don't eat too much, try to eat something light, the trip or change of climate may hurt you, but it will be momentary, after a while you will feel fine.
Walk slowly, drink plenty of water, eat lightly and keep warm.
Bring warm and comfortable clothes, sunscreen, hats, gloves, hat, toiletries, cash is important because in these towns they do not usually handle cards, if you want something you have to have coins.
Be kind to the villagers, if you want you can leave them something or they can also give you a gift, always be grateful.
Day 9: Taquile Island
It is another day and we go to another island of Lake Titicaca, this time our trip takes us to Taquile Island which is characterized by its ancestral weavers and it is worth living with them. This island is about 4,000 meters above sea level and is considered one of the most beautiful places to visit, the village stands out because only men are in charge of making their weavings for themselves and for women.
What to see and do in Taquile Island?
Ancestral weavers (textile art), perhaps you may find it misleading to say weavers, as it refers to only men, yes, this town is characterized because here only men can weave, this according to their ancestral culture and to this day are still practicing; women are responsible for making the dyeing, made of wool among other things but are limited.
According to the old settlers, here were those weavers who made the clothes of the Inca and the noble classes, therefore that tradition was kept alive and until now they continue practicing it and transmitting it from generation to generation, it is really a beautiful experience, it is worth coming to this magnificent town.
Visit the archaeological zones, we must go towards the beach Huayllano and Collata for which we have to a little, once in the archaeological zone you will see that there are petroglyphs and shows us the culture.
Experiential tourism, as I had already told you in this town you can live with the people themselves there, know the lifestyle they have, even if you have more time you can visit the agricultural area, support in fishing and once in the house you will evidence the textile work done by men.
Craft fair, as I mentioned here only the men make their garments and at the same time expose it for sale, if you liked any.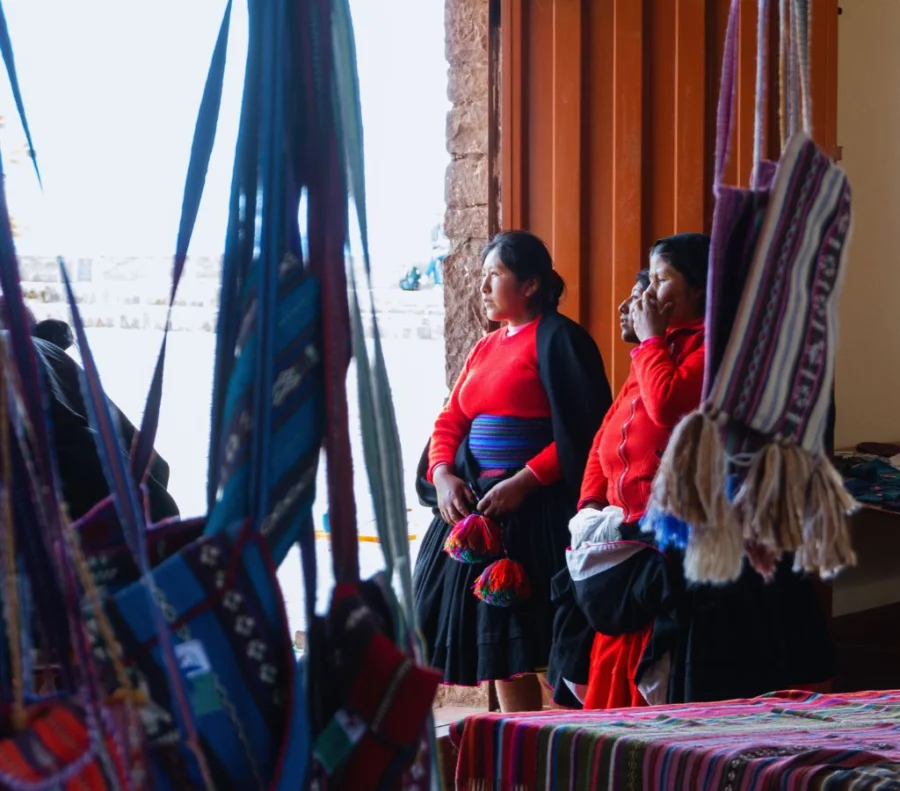 Where to eat?
The town of Taquile offers a typical local lunch based on potatoes, quinoa, eggs, lake trout and more, it was a delight.
Where to stay?
As rural tourism is done in this town, you can stay in one of the houses of the villagers, actually their houses are very cozy, small enough to spend a few nights, but what matters here is the experience you have with them and you know closely their lifestyle.
If you haven't booked, don't worry, you can find a room, although it is better to make a reservation in advance;
My Recommendations
Bring warm clothes, it is usually cold at night on Taquile Island.
Keep in mind that you should wear waterproof clothing during the rainy season.
You should always have your identity documents or passport with you in case you are a foreigner.
Be grateful to the people who took you in, they will take care of you as one of their family.
Take plenty of water, medicines in case you need it for motion sickness or altitude sickness, as we are at more than 4,000 meters above sea level;
If you feel dizzy or have a headache, it is normal, this usually happens because of the altitude we are at.
Day 10: Route Puno - Cusco
After visiting the islands we return to the city of Puno, from there we leave for Cusco to visit the other attractions of this ancient city, cradle of the Inca empire.
But first I went through some places that are a must to know that I will narrate below the places I was able to visit.
What to see and do in Ruta Puno?
Pukara, to get there you come all the asphalt road and follow a road that leads us to Pukara. Here we can see subway buildings dating back to 200 BC; likewise visit the museum where we will see monoliths and ceramics and the famous Pukara bulls, which mean protection, made by the craftsmen of the people.
Abra La Raya, is the highest point between Puno and Cusco is the route between these two cities and from there you can see the snowy Chimboya which is part of the Andes. You also have to know that it is too cold because it is close to the mountain range, but it is perfect to take some amazing pictures.
Along the way you will come across ladies selling handicrafts, souvenirs if you like you can buy them.
Raqchi, we continue with our route and we go to one of the important temples of this site also known as the "Temple of Wiracocha" a religious and political complex, although there is little trace of this place you can see the presence and imposing that represented, the complex is huge and has built an Inca wall that protects the park.
The Sistine Chapel of America - Andahuaylillas, this chapel will leave you surprised because you can see the walls, ceiling decorated with original paintings on them, there are canvases belonging to the baroque era. You should also keep in mind that to enter this religious site you have to pay an entrance ticket.
In short, this place is one of the largest in Latin America.
Where to eat?
On the way to Cusco, passing through the Abra you will find several locals who offer a variety of things among them sell dishes made from alpaca, an auquénido that abounds in the area, so this would be their typical dish.
You can also eat at different points, this will depend on the place you are visiting, if you can do experiential tourism it would be nice because you connect more with the locals and also share with them.
Where to stay?
Well, I stayed in one of the inhabitant houses, in order to share more with the local people, they will give you a room, your breakfast and lunch, but to live this experience you have to make a reservation before.
My Recommendations
Have your identity documents or passport with you in case you are a foreigner, because to enter these tourist sites you will be asked for your documents.
Take water and snacks with you.
Wear food and warm clothes.
As this day we are traveling always try not to eat heavy meals, it can hurt you on the road.
Always carry cash with you, remember that some towns do not have bank accounts so it is better to carry cash.
Day 11: City tour in Cusco
After having made a long trip and being already installed in a hotel in the city of Cusco, we have the day to visit the various attractions that has the same city; here you can visit from temples, markets and squares, because the whole city is surrounded by a lot of history, Inca and colonial buildings that are still alive, endure over time.
What to see and do in Cusco?
San Pedro Market, we go to one of the oldest markets in Cusco, inside this market we found everything really, we went to have a good breakfast at the market which consisted of a good chicken soup that are very popular in the morning, you can also go for a fruit juice, a special preparation.
Also, they sell groceries, meats, flowers, handicrafts, food, herbalism, fruits, dairy products among other small stalls that sell other things, in fact you find everything you are looking for, so it is one of the most complete markets I could see;
The Cathedral of Cusco, then we went to the main Cathedral to see all the canvases made by Cusquenian artists belonging to the seventeenth - eighteenth century; according to the guide told us that what stands out most of all the canvases is the painting of the "Last Supper" made by the Peruvian painter Marco Zapata, in which he changes the image of an Easter lamb by a vizcacha (as Cusquenian tradition), also draws attention to its architecture. Before entering you must pay an entrance ticket, it is better if you buy the BTC tourist ticket.
La Compañía de Jesús, like the cathedral this church has much to tell, because inside we can see the paintings depicting the transfiguration of Jesus, the Virgin of the Immaculate Conception and its architecture itself with which was built.
Plaza Mayor of Cusco, is located in the heart of the city center, is surrounded by old colonial houses, churches such as the Society of Jesus and the Cathedral who expose much of the colonial religious history, likewise in the center of the square we can find shrubs, a pool and on it the statue of the Inca.
As I said around the square there are houses that function as stores including handicrafts, food, and in some travel agencies.
Stone of the 12 angles, this is another place where you have to go to see the great Inca engineering, as this stone is the sample of how they were fitted perfectly and did not use any element to join them (with cement today), the same can be seen in Sacsayhuaman, Qoricancha, Machu Picchu and other archaeological sites.
Convent of Santo Domingo - Qoricancha, is known for being a sacred and important place, because here were held important ceremonies all dedicated to the Sun, currently retains part of what was its infrastructure, because when the Spaniards arrived they destroyed it and built on the religious convent.
Before entering you must pay an entrance ticket, so it is better if you buy the BTC tourist ticket.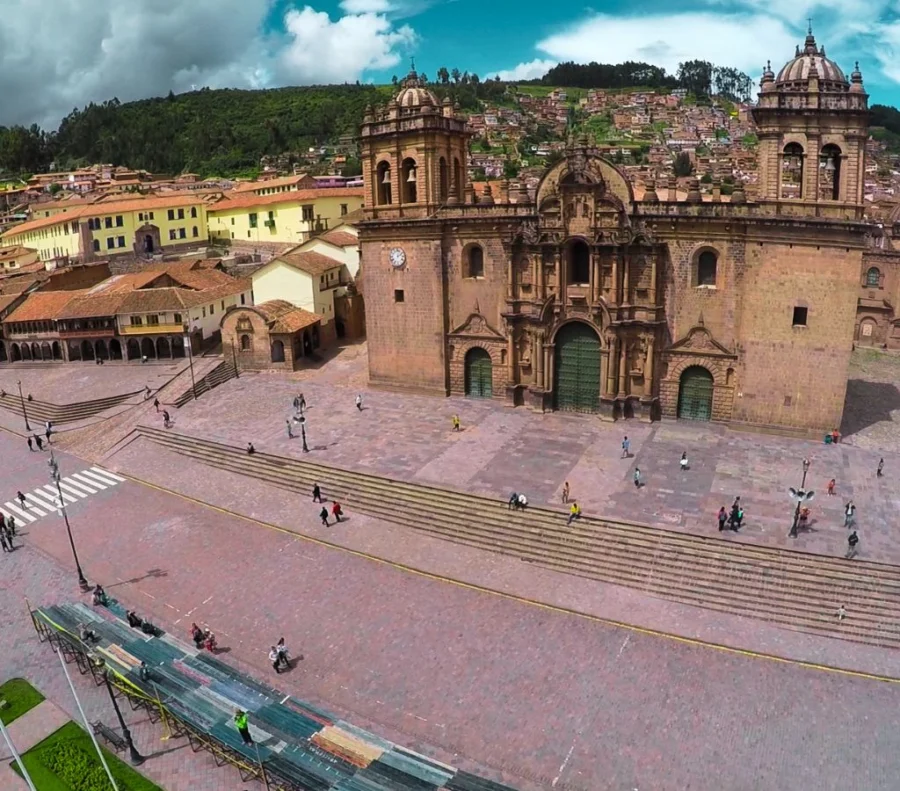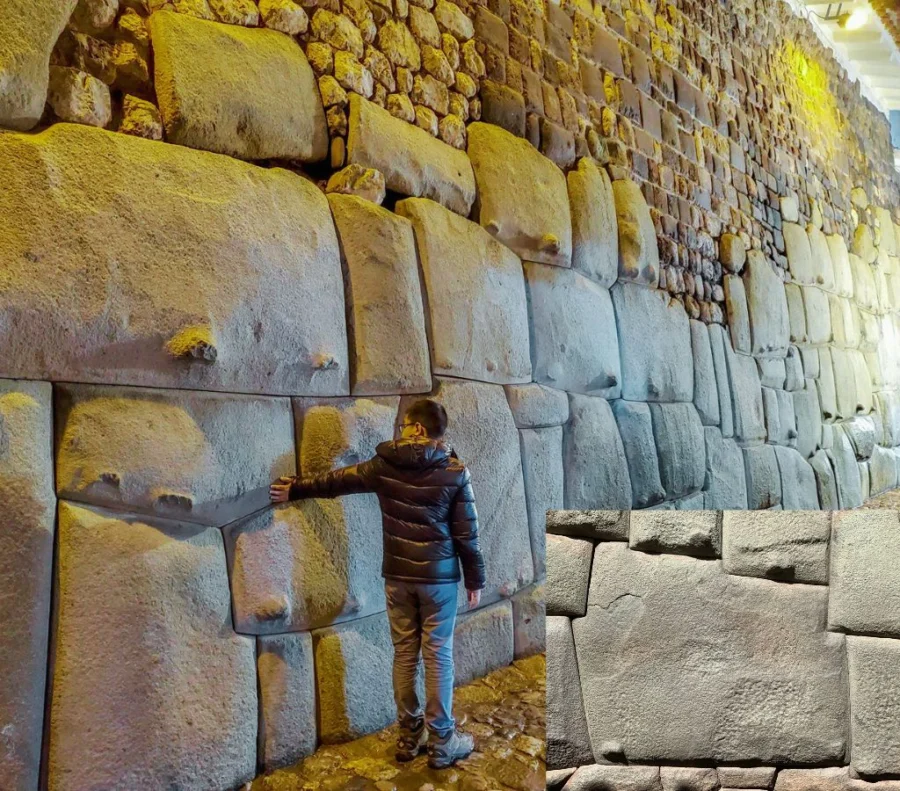 Where to eat?
We have several places to eat, you can do it in the same square, although they will have a higher cost unlike the San Pedro market where you find a variety of dishes with comfortable prices;
From my experience the San Pedro market is a good option, because it offers a variety of dishes, some traditional among others, and the food here is delicious.
Where to stay?
Well, this will depend on the place and your economy, because here in the city we find hotels from five stars to the most basic and some in Airbnb, you should see which of them is better according to your comfort, although I preferred an Airbnb house that are comfortable and gives you the chance to buy things and prepare them yourself.
But, here you find several options so don't worry, but if you already have a favorite place then you have to make a reservation in advance.
My Recommendations
I advise you to stay about two days to get to know better the attractions of the city of Cusco.
Preferably visit in the dry season, since there is no rain and it is better to visit the other attractions.
Here you can pay by credit card, but you must also have cash, because not everyone has a bank account.
Bring a hat, sunscreen, comfortable and warm clothes.
If you don't know a place I advise you to ask the locals and they will tell you where to go.
Day 12: Sacred Valley of the Incas
The next day we will visit the Sacred Valley of the Incas, a must if you are in Cusco, we have many places to see, as all are Inca. Preferably do it with a travel agency, they will take care of the transportation and the respective guide;
What to see and do in the Sacred Valley of the Incas?
Chinchero, is a tourist town known for its textile crafts, the ladies who are responsible for this work show us the whole process of dyeing, washing, weaving and techniques performed to make a garment. It was a nice experience to know the whole process, there is also a market where they expose all the work done.
Maras, is an extraordinary site, because here you could see one of the largest salt mines, they are inside pools of water from where they extract this salt, and then from them they classify it for consumption and medicinal. Definitely incredible, as the guide mentioned to us that they were used during the Inca period to extract salt and surprisingly to this day salt continues to be extracted. The place is fantastic.
Moray, this is another incredible site, where you can see circular agricultural terraces that were used as an agricultural laboratory, where each planting was done in different microclimates and once adapted were planted in their respective lands.
Well I was very surprised by so much knowledge applied, really the Incas were very advanced characters and the remains that were found; today you can see a lot even teaches us there are things that can not be explained, actually everything found here is unsurpassed.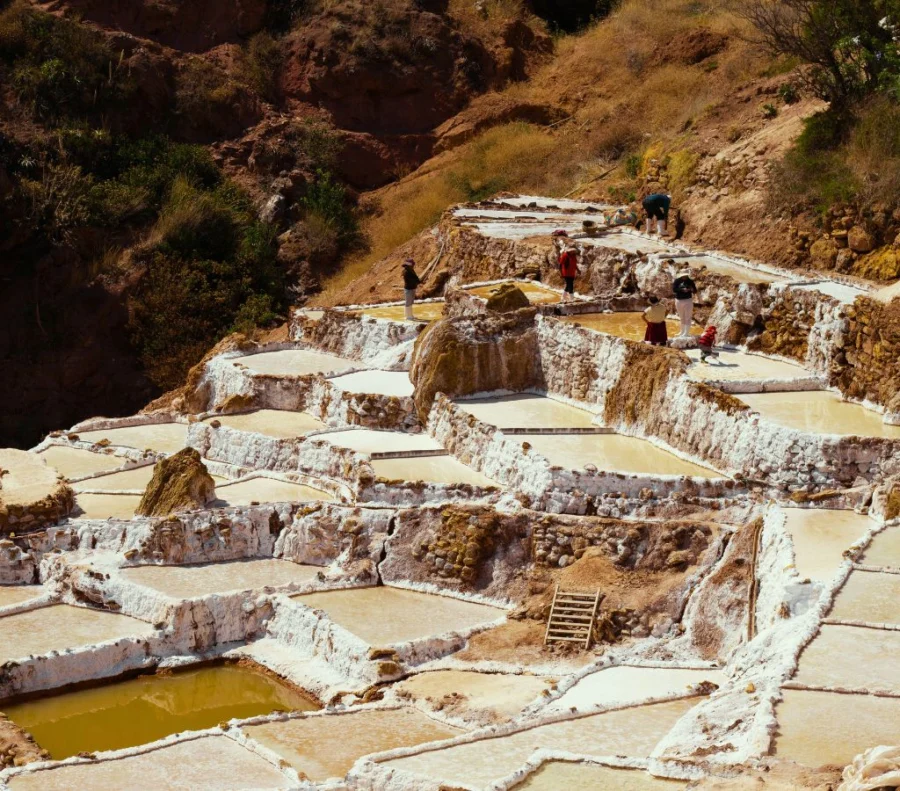 Where to eat?
As all the way is by car, you would have to make a stop in Pisac, as this is on the way to Ollantaytambo where we are heading; returning to the start you could have lunch in Pisac (this if you are going on your own), but if you are going with a travel agency they already have contracted the restaurant where you will have lunch in this case it was beyond Pisac a very nice place and the lunch was very good.
But do not despair, because there are several restaurants that offer lunch and the maps are sure that you will find one for lunch.
My Recommendations
Remember to always have your identity card or passport with you in case you are a foreigner, because to enter these tourist attractions you will be asked before entering.
Make the most of every visit you make, capture every moment.
Bring plenty of water, snacks, hiking shoes, hat, sunscreen.
This is important, carry cash, you may want to share something on the road and you can do it with cash only.
Day 13: Visit the 7th wonder of the world Machu Picchu
This was one of the trips I was looking forward to the most of my entire trip, with this I do not mean that the others were not nice, no…no…no…no… Everything was fantastic, but to know the citadel of Machu Picchu is really something fantastic, unbelievable.This was one of the trips I was looking forward to the most of my entire trip, with this I do not mean that the others were not nice, no...no...no...no... Everything was fantastic, but to know the citadel of Machu Picchu is really something fantastic, unbelievable.
Actually I lack words to express everything I felt when I arrived at Machu Picchu, it recharges you with energy, it is something mystical, amazing, in short I will tell you everything I could see. By the way, if you go to visit the Inca citadel you have to go with a guide to explain everything they built.
What to see and do in Machu Picchu?
Sacred Square, is formed by three walls with polygon shapes, this square was of religious character, around it is the House of the Priest who was in charge of initiating the ceremony.
Temple of the 3 windows, consists of one of the important constructions in which the stones are finely carved and joined, they give us a view towards the Putucusi mountain, the curious thing is that its three windows were aligned.
Temple of the Condor, is another architecture carved in the same stone and has a shape of a condor. According to researchers this represents one of the sacred animals of the Andean culture, along with the puma and the snake.
Intihuatana, this is another very important sacred piece, for the Incas this was an astronomical clock in which they could see on what dates they could sow or make crops, regarding its translation means "where the sun is tied".
Houses built, in the lower part of the citadel you can see the city or where the settlers lived and what is characteristic of them is that each room always has windows in the form of niches, to what the guide explained to me is that these served to place their deities and worship them.
Andenerías, in the lower part you can see an agricultural system, here they planted agricultural products and at the same time served as a retention against erosion of the land.
Actually every construction that is here is incredible and the curious thing is that here the Spaniards could not get here so this Inca city is intact or as the Incas left it,
Now what you can also do is climb the Huayna Picchu, go to the Mountain Machu Picchu or visit the Inca Bridge; but keep in mind that to do the Huayna Picchu which is one of the biggest adventure stars because it is steep and you have to make a reservation at least two months in advance and for the others if you can find them when you make your reservation for Machu Picchu.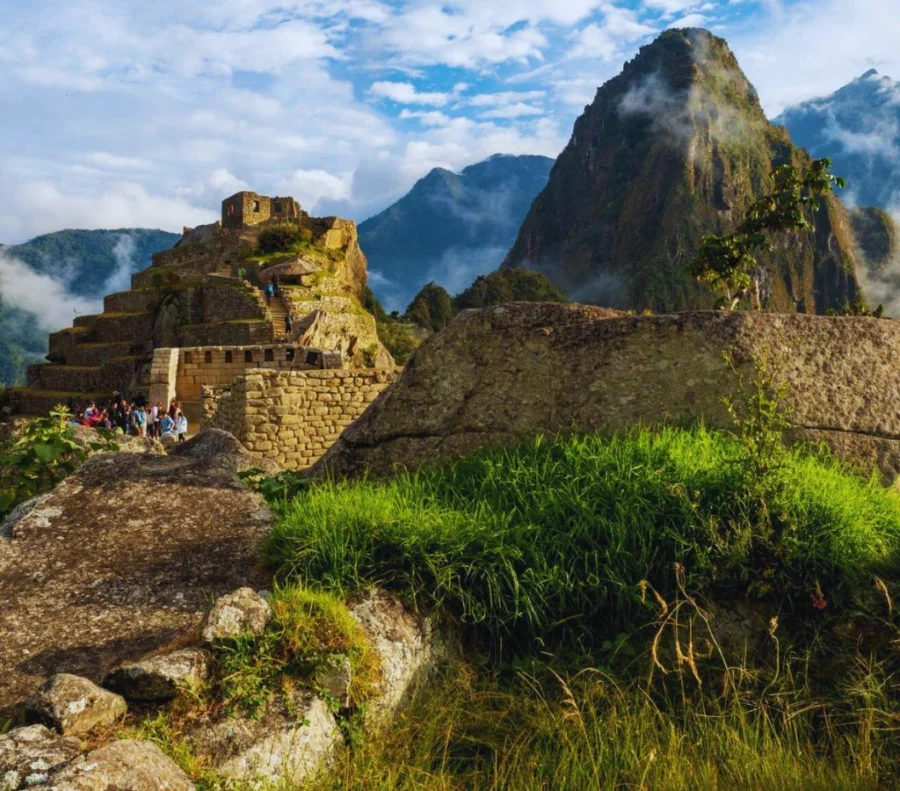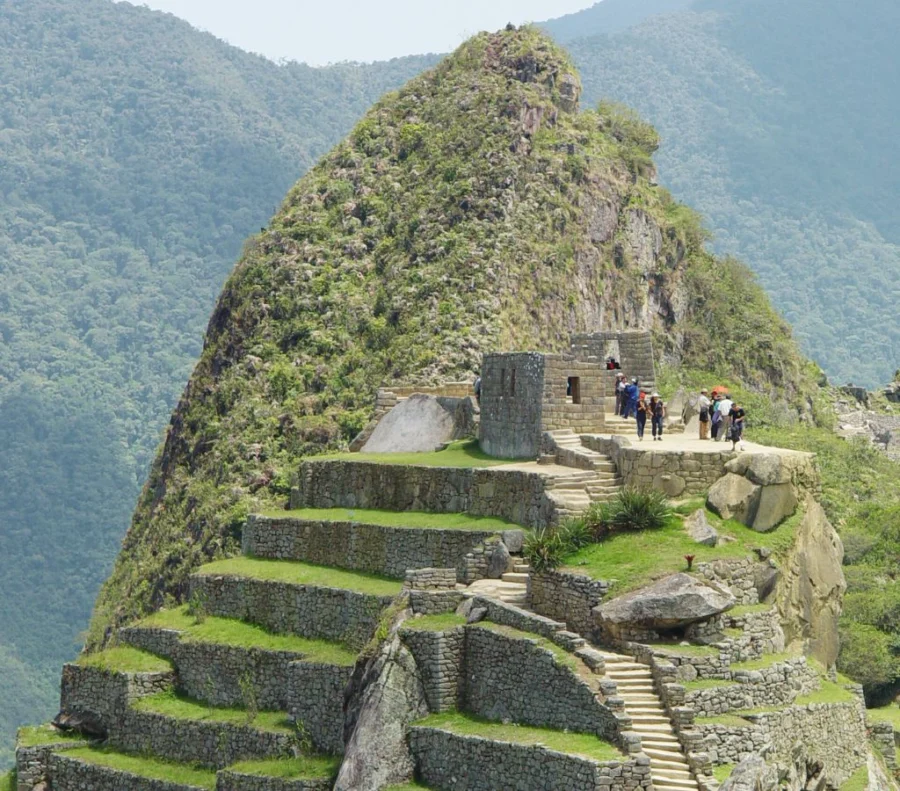 Where to eat?
For breakfast, lunch or dinner you can do it in the town of Aguas Calientes, in its central market although it is the only one, however, if you want to try other places you can do it in the different restaurants that are also located in the town. It is difficult to get lost, because it is so small that everything is known there, so do not worry about finding a good place to eat.
Where to stay?
Well, this part is perhaps a little complicated, I tell you that if you are going to visit Machu Picchu and you plan to stay overnight there you should make a reservation in advance because hotels tend to fill up fast and it is better if you do it when you are booking your entrance to the llaqta.
Now there is also another option is that you can stay in hostels that are very basic but can get you out of trouble, but these also stop full in case it is high season, so it is best to make your reservations in advance.
My Recommendations
To visit the citadel of Machu Picchu you must book two months in advance, this will depend on the season in which you come.
In the same way, you must book the train to and from the citadel, this according to the date of entry to the citadel, if you do not have your train ticket you will not be able to travel, this means from Ollantaytambo to Aguas Calientes and vice versa.
Bring your ID or passport with you, because you will be asked for it when you enter the citadel and go on the train.
Bring waterproof clothing, warm clothes, hat, sun block, trekking shoes.
Have cash to facilitate your purchase.
It is better if you hire a guide to guide you all the way.
Day 14: Ollantaytambo - Pisac
Well, after having visited one of the 7 wonders of the world Machu Picchu we returned to Cusco, but first we visited Ollantaytambo and Pisac, these are places that we have yet to visit.
What to see and do in Ollantaytambo - Pisac?
Ollantaytambo, this is another day and we will visit Ollantaytambo, we leave very early to see the first rays that are reflected in the Temple of the Sun and in some gigantic stones; we will also see that there are terraces built on top that served as a surveillance center, and in the lower part is the bath of the princess, further on you can see how they would have handled the stone or rock.
This time we will have breakfast in one of the restaurants in this town and then continue our journey to the city of Cusco;
Pisac, After visiting Ollantaytambo we go to the ruins of Pisac another attraction of Pisac, here we can see the Inca constructions as platforms, replica of the main temples that are in the city of Cusco, Inca cemetery, chincanas and more buildings that really show its importance;
Each site that I managed to visit was quite surprising, as each one of them is clear evidence of its importance within the Inca culture.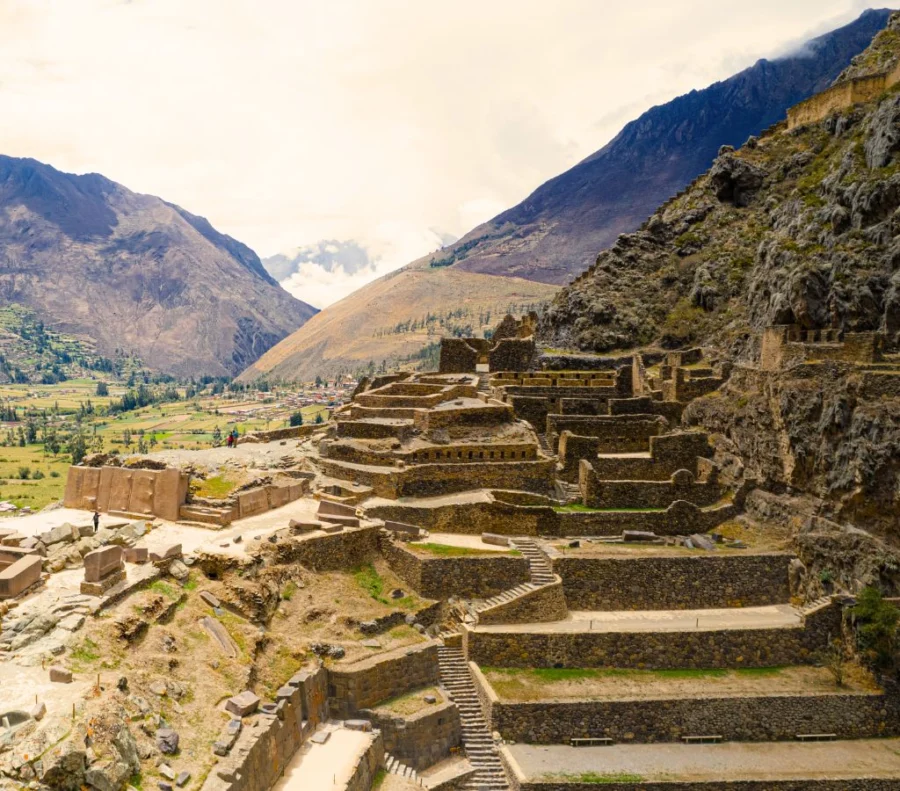 Where to eat?
In these places there are several places, in which they sell various gastronomic options made from quinoa, huancaína potato, trout ceviche, among other dishes. You can find them normally in Ollantaytambo and Pisac, so do not despair.
Where to stay?
There are different services provided by the hotels, there are five to three star hotels and they provide a differentiated service, there are also hostels that are very basic where you can only stay overnight and that's it, unlike the five or three star hotel they provide breakfast, some lunch, this will depend on your reservation.
Another place that attracts attention in Ollantaytambo are the completely transparent hanging hotels, consisting of capsule type rooms that are at a certain height and have a privileged view of the city;
Also here they give you breakfast, lunch depending on the reservation you made, an additional fact to stay here is booked months in advance, as there are only a few capsules, the only way to get there is ascending a ladder and harness, it is really for those who are not afraid of heights and loves adventures.
My Recommendations
If you are traveling on your own, organize your time and places you are going to visit.
Choose your accommodation wisely.
Try new experiences, but always consult with an experienced person, in this case I preferred to travel with a personalized guide, because he guides me throughout my trip, but if you do it without a guide then you should inform yourself before to avoid getting lost.
Carry cash.
Bring hiking shoes, hat, warm clothes, sun block, water and snacks.
Day 15: Attractions to visit
Well this day you decide which place to visit, here I bring you more options where you can go, in my case I had the opportunity to travel to two of them, however, I leave you these short routes that are usually done in one day.
What to see and do in Cusco?
Montaña siete colores, to get to this mountain you must leave very early, usually for this route you leave at 4 am to reach the mountain on average 10 am, I recommend that you book this trip with a tour agency because for this place there is not much transportation and generally only agencies are those who come to the place.
During the journey, you pass through several villages until you reach Pampachiri, where the checkpoint is, from there you have to climb for an hour and a half (depending on your pace) until you reach the Seven Colors Mountain, in case you can not get to walk you can rent a horse up to a certain part and from there you have to climb. The return is the same hike.
The road is wonderful, plus you are at an altitude of over 5000 meters, so be careful, go at your own pace.
Montaña de Palcoyo, this one day tour you must also do it with a tour agency, they pick you up at a point and from there we leave to the mountain, Palcoyo, on the way you can see llamas, alpacas, sheep, as well as the beautiful landscape that surrounds it, once we have reached a certain point we start our walk to this wonderful mountain; In addition to being in a high area we will have the privilege of seeing the color of the mountains and our guide who accompanies us explains to us about these mountains.
Once we arrived at Palcoyo, having taken several photos for the memory, we return to the transport where we are waiting for us, it is a short but very beautiful trip;
Humantay Lagoon, another trip with lots of adventure and beautiful experiences; well the Humantay Lagoon is one of my favorite places, just seeing its turquoise waters and the snow-capped mountains above it gives it a spectacular touch. To get there in the same way you must travel with a travel agency, they will pick you up early from an agreed point and from there we go to the lagoon, we will pass through several picturesque villages, pastoral areas.
The whole route is very beautiful, we only arrive by car to a certain point (Soraypampa) and from there we start to climb all the way that will take us at least 1 hour and a half or more; this will depend on the physical you have, the route is very nice, it is temperate and the landscape itself is very nice, now if you want to stay you can do it in the hotels that are along the way, but these are prior reservation.
Now once you get to the turquoise waters you will be amazed by so much beauty that you have in front of you, I would not know how to explain that feeling, but I recommend you to visit it and surprise yourself.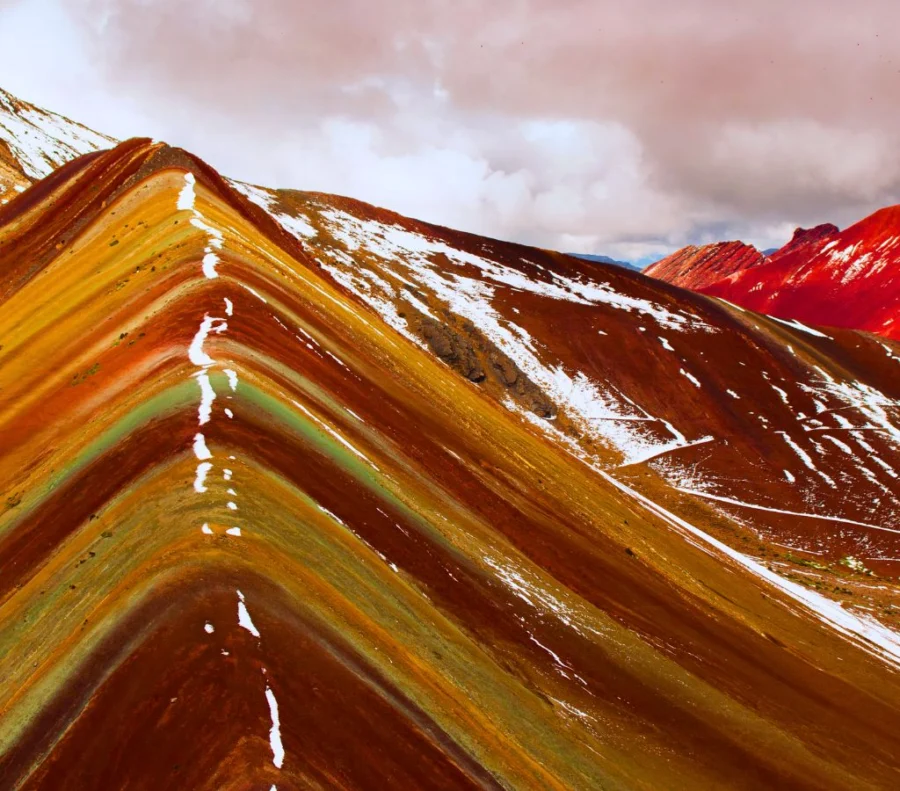 Where to eat?
In any of these cases the tourist agencies are in charge of giving you breakfast and lunch, usually before going up to the mountains or the lagoon you have breakfast in a restaurant in town, once you have had breakfast you just go up or walk to the attractive site.
The same, when we finished our tour we started to descend and you have lunch in the same place where you had breakfast or by agreement you can go to another place, so if you go with an agency do not worry about them organizing your food.
Now, if you went on your own, there are places that offer breakfast and lunch, so there would be no problem. But I recommend that you travel with a tourist agency.
My Recommendations
Travel with a tour agency to these tourist destinations, because the tour is only one day.
Bring your identity card or passport in case you are a foreigner.
Look for better cost options for these tours, but remember to always travel with a certified agency.
Preferably have cash, as we pass through small towns they don't usually use credit cards, they generally use Peruvian money in cash.
Wear comfortable, warm clothes, your trekking shoes are important.
Bring plenty of water, snacks, dried fruit and nuts
I conclude my two-week trip through the best places of this wonderful country, every place, every road, every landscape, every moment was unique and magical at the same time; I must thank the travel agency Tierra de los Andes who helped me to make this trip throughout the country a reality, without them I would not have been able to get to know every corner.
I continue with my adventure to know other attractions, but I will not fail to say that I have to return to this beautiful country, because I consider that I have to visit more corners, places to explore for the moment this is a small part of my experience that I lived in Peru.
They are unique memories and I know that if I return they will be different, because each place offers us a different sensation, it is never the same. I leave sad and happy at the same time, I would have liked to know more, but it is a commitment to return again.