The 4-day Inca Trail is one of the must-visit destinations that we should explore, taking us through breathtaking landscapes, snowy peaks, unique fauna, and flora. The beauty of it all is that you'll be able to visit all the archaeological sites along the Qhapaq Ñan trail up to the Machu Picchu Sanctuary. In this guide, I'll tell you about the entire journey I undertook.
Travel Guide for Visiting the Inca Trail in 4 Days
I want to share this guide for when you want to come to Cusco and do the Inca Trail trekking. Here, I will tell you everything you will find on this iconic hiking route that takes you through stunning landscapes and archaeological sites until you reach the Historic Sanctuary of Machu Picchu.
Moreover, let me tell you that the classic Inca Trail is considered one of the best trekking routes by various magazines and travel platforms. Therefore, trekking this path makes our adventure even more incredible. However, you should know that during the journey, you will be ascending and descending mountains, so you must be in good physical condition to undertake this trek.
Why visit the Inca Trail in 4 days?
As I mentioned before, the Inca Trail is considered one of the best trekking routes. Along our journey, we will encounter various archaeological sites, huacas, terraces carved from the same stone, Inca walls. What's beautiful about it all is that along the trail, you can see a variety of orchids, some of which resemble a wasp or bee.
In my opinion, they take on other forms, but they are very beautiful. I will tell you that the journey is tiring, but it's worth doing because it gifts us a wonderful landscape.
What is the best time to plan my 4-day Inca Trail trip?
The best time to travel the Inca Trail is the dry season in the Cusco region, which means that between the months of May and August is the ideal time to travel.
It is chosen at this time of year because of the absence of rain and the days are sunnier, although it is very cold at night; but this will not prevent you from living or realizing this long-awaited experience.
You should know that during the months of February the Inca Trail is closed, because I was told that they are restoring the entire route during this month. On the other hand, if you already know when to go, I recommend booking 5-7 months in advance, I did it with the help of the travel agency Tierra de los Andes who advised me and organized the whole trip.
Let me say that the Peruvian Ministry of Culture, which is responsible for the Inca Trail, provides limited places per day, and because there are many adventurous tourists like me who want to make this trip, they book months in advance and the place or day we wanted to travel is full, so it is better to book in advance.
The previous days we have to be installed in the city of Cusco, this is to acclimatize ourselves so that when we go on the road it will not hurt too much, likewise you have to have physical endurance or at least be used to walking so that the road we will take will not be so strenuous for you.
All right, the day has come to embark on the journey to the Inca Trail, but before you go, you should know that to take this hiking route, you must hire the services of a travel agency. Only then will you be able to follow the Qhapaq Ñan route.
From my experience, getting to know each tourist site, feeling that magic, discovering beautiful landscapes, and experiencing that Andean magic in every moment. During our journey, we will visit several places that I will detail for you below.
Day 1: We visit Cusco - Km 82 - Llactapata - Wayllabamba - Yuncachimpa
From very early in the morning, we set off from the city of Cusco towards Km 82, located in Ollantaytambo. But first, we'll have breakfast before starting this journey. After breakfast, we head to the starting point.
Here, the entire team awaits us, consisting of porters and cooks who will accompany us all the way. On this path, we pass through a checkpoint and cross a hanging bridge over the Urubamba River. We arrive at a point where we take a mandatory photo, as there is a large sign welcoming us to the Inca Trail.
This day's hike is one of the easiest, serving as a warm-up for the trails ahead. During the walk, I was amazed by the surrounding nature. You can see the Huacay Huillca snow-capped mountain from there; the landscape is truly fantastic, and this is just the beginning of what I will find later.
We spent the first few hours of the hike along the Urubamba River, although the weight of our backpacks adds a touch of fatigue. But well, the entire journey is wonderful.
Hours later, we reached Miskay, where we had lunch. Then, the guide provides information about the Llactapata or Patallacta Archaeological Complex, a ceremonial site dedicated to agriculture. It could be said that it is one of the first archaeological sites we encounter on this trail.
We continue the journey until we reach Wayllabamba, where we find remains of warehouses and houses. It is said to have been a resting place for those traveling to Machu Picchu. The site was very beautiful, and the whole place felt real.
That would be our first stop, where we rest to continue the next day. I must point out that our chef friends are already waiting for us here, and they have everything prepared. We help set up our camps and rest.
The truth is that the trail was a bit smooth; I found paved paths made of the same stone, wonderful archaeological sites. So far, I am enjoying my journey, excited about everything around me. Now, time to rest to be energized for my second day.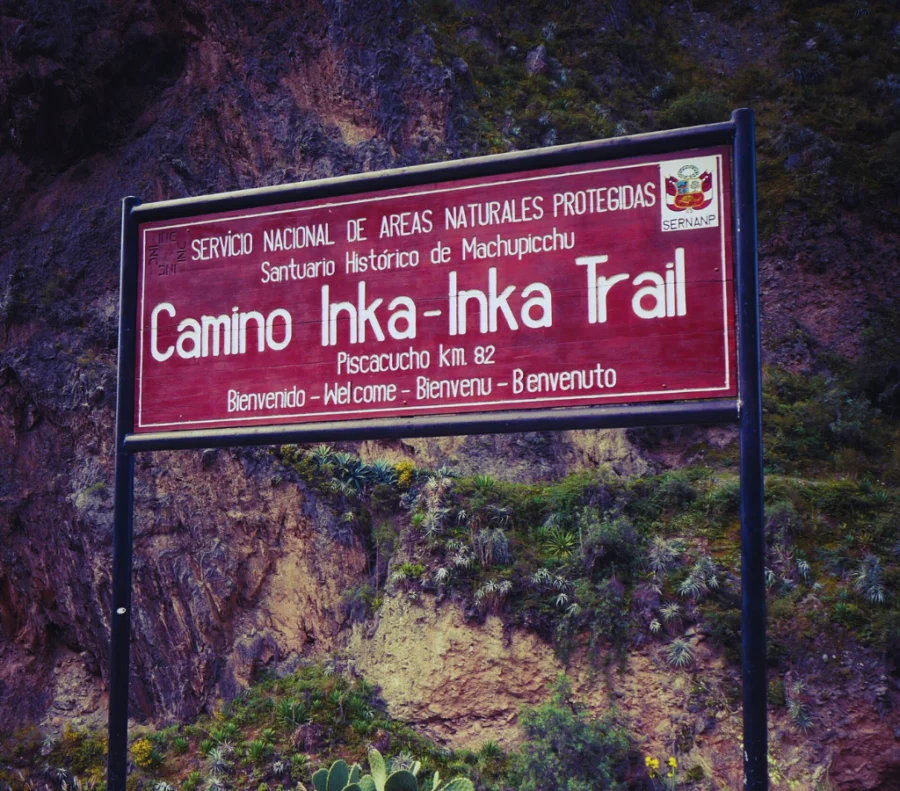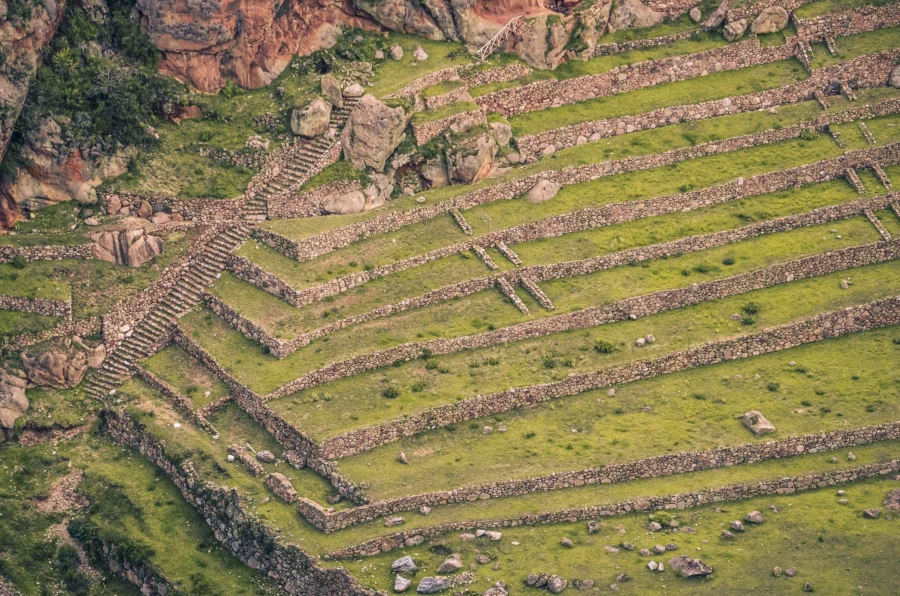 Day 2: Yuncachimpa - Warmiwañusca - Pacaymayo - Runkurakay - Chaquicocha
Our second day of trekking started early, but first we had breakfast, settled our backpacks, and then introduced ourselves to the team members who prepare food for us, such as cooks, porters, and waiters, and we also introduced ourselves.
This day our hike is free, because we walk at our own pace and we all arrive at a meeting point, always with a positive attitude, and continue on. Today we will climb to the highest point of the Inca Trail.
We arrived at the Warmiwañusca Pass, which means where the woman dies, the climb took about 3 hours and 40 minutes and is at an altitude of 4,200 m. I thought I would not make it, give up halfway, but unimaginably I made it.
Here we took several souvenir photos, and from here you can see all the mountains surrounding the beautiful place.
We took some time to rest and then continued our long walk, the whole time I was waiting to see if I could find anything, and if in some places we could see condors, flora, rivers, everything was great.
Then, we started to go down towards the archaeological site of Runkurakay, we arrived at the same site to visit and see up close its architecture, the plazas, the andenerías… actually everything was incredible, to think that this road was used by the ancient Inca settlers.
We continue downhill until we reach the archaeological site of Sayacmarca or resting place, from where we can already see the place where we will camp, the whole road was covered with vegetation, plants, but we finally arrive at the camp to rest.
I won't lie to you, I was very tired but happy to arrive at this wonderful place and the most beautiful thing is to rest in a place surrounded by so much natural beauty such as mountains, birdsong, wind and even the sound of the river.
An unforgettable experience, the hike was about 8 hours, we had dinner in the evening and had a good rest because the next day will be a very long journey and we are approaching the big city of Machu Picchu.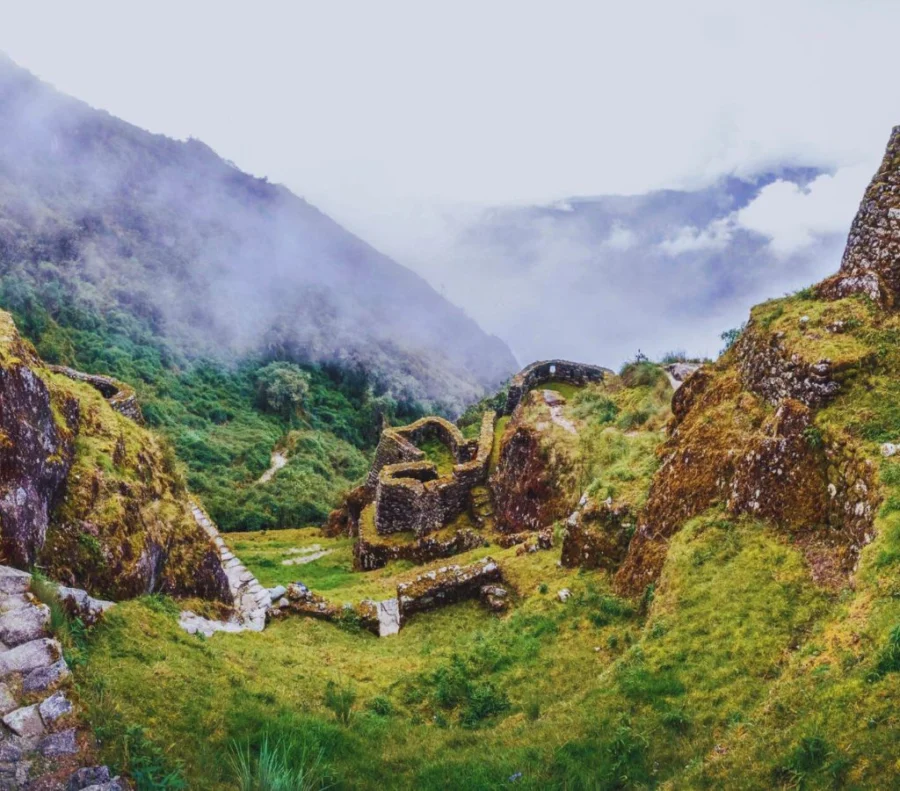 Day 3: Chaquicocha - Phuyupatamarca - Wiñayhuayna
The road is still long so more things await us, we will be entering the jungle, we continue with the beautiful views until we reach Phuyupatamarca, which means "city above the clouds".
It is a clear example of the magnificent Inca architecture made on the steep side of the mountain and left as a vestige of his greatness, you can see walls, terraces, it is believed that it was a viewpoint or balcony from where you can appreciate the beautiful scenery that surrounds it;
From there we climb to the Wiñayhuayna, near this site is our last camp. A few hours later we arrived, we settled and toured what is the Wiñayhuayna, its streets, stairs and more where we will take photo.
We rest until the next day, because we will leave very early in the morning to Machu Picchu.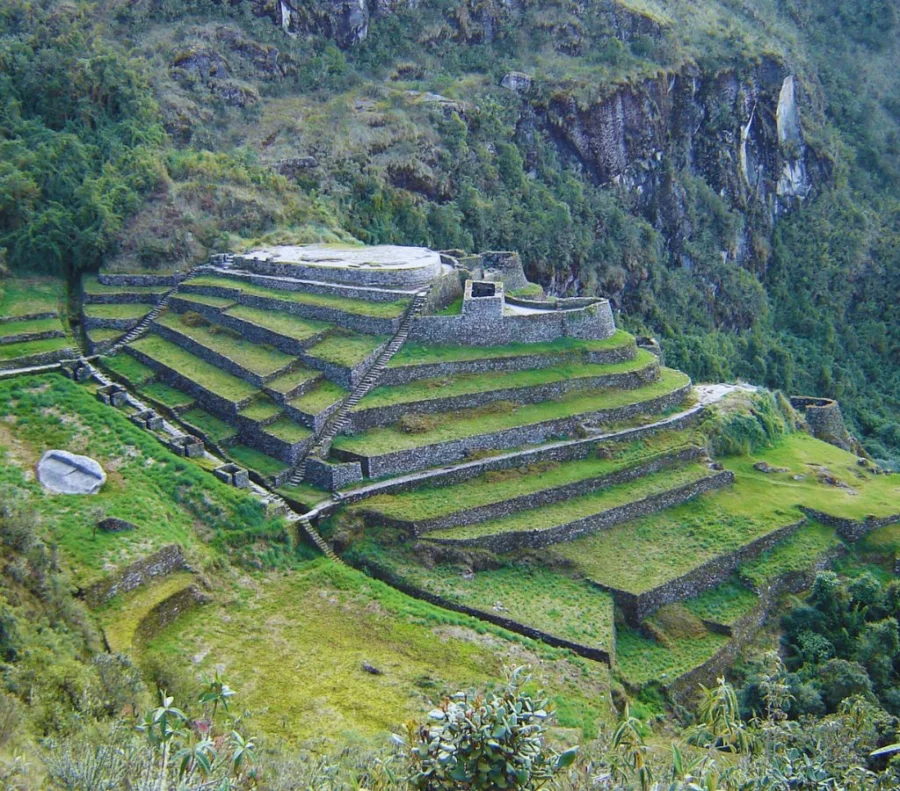 Day 4: Wiñaywayna - Machu Picchu - Aguas Calientes - Ollantaytambo - Cusco
This is the long-awaited day for everyone because today we are reaching, without a doubt, the majestic Historic Sanctuary of Machu Picchu. We depart from Wiñaywayna very early to witness the sunrise and begin with all the energy of the sun.
Here, we take several photos and continue with the final stretch until we reach Machu Picchu. We are heading towards the Sun Gate (Inti Punku), anticipating the beautiful spiritual encounter with Machu Picchu.
From the Sun Gate, we can already see Machu Picchu and Huayna Picchu. I am excited, joyful… there are various mixed emotions; happy because we are very close.
Finally… I am very happy because I reached the Sanctuary of Machu Picchu. I explored every street, temple, plaza, agricultural areas, paths, observatories, places of worship, and more. I took a thousand photos, connected with the spirituality of this magnificent Incan religious site.
After a four-day journey along the entire Inca Trail full of emotions, adventures, new experiences, sharing with my new friends, the kind gentlemen who attended to us, sleeping in tents, witnessing the sunrise, and more it was an unforgettable experience that truly no one can take away from me.
After spending 2 hours at Machu Picchu, we descended to the town of Machu Picchu, but this time we took a bus that takes you to the lower part to freshen up from the entire journey. We went to Aguas Calientes, where we enjoyed the hot springs to relax.
After relaxing, we went to eat something delicious hehe… and then returned to Cusco, a bit sad because I wanted to stay longer. However, I had to return to my destination, but I am leaving very happy to have traveled that entire path. It was one of my best experiences, and I would undoubtedly do it again. Thanks to the travel agency Tierra de los Andes, which accompanied me and took care of everything throughout the journey.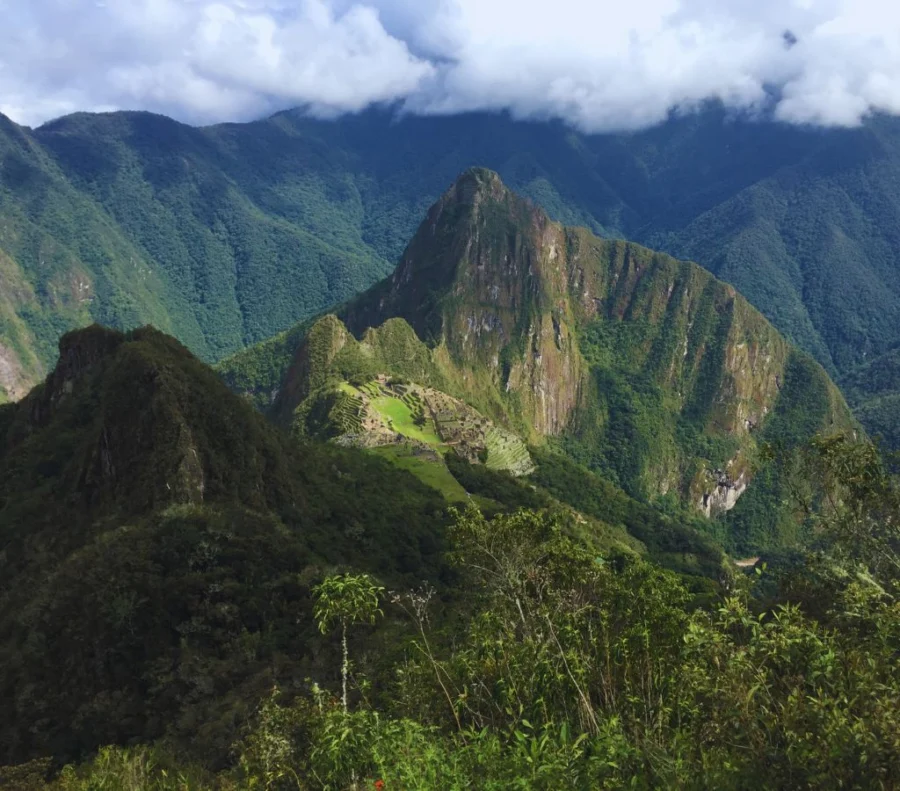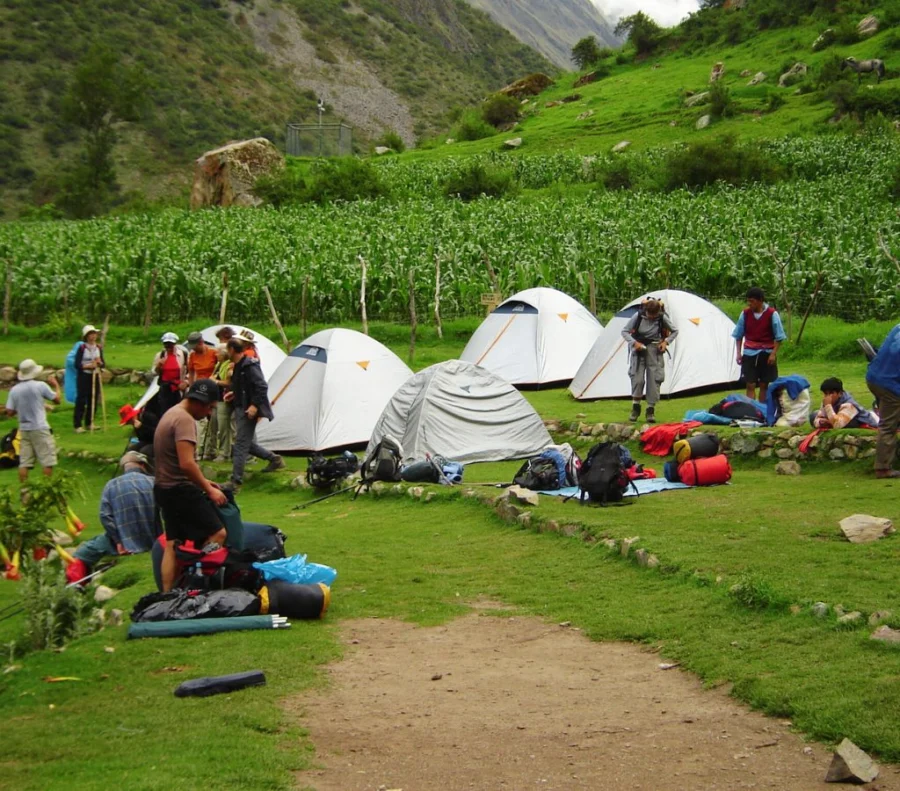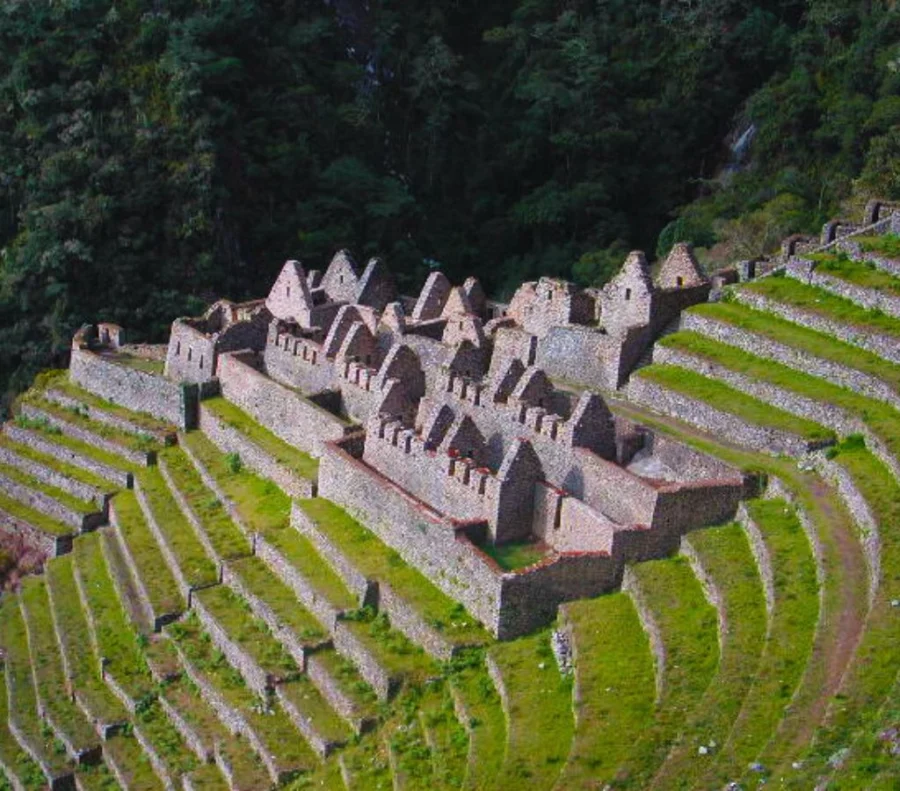 My Recommendations
Wear appropriate clothing, hat, sunscreen.
Have your documents with you, either a passport or identification card.
Wear trekking shoes; your feet will thank you.
You should also bring trekking poles; they will be very helpful.
Bring plenty of water, preferably in a reusable canteen or bottle, to avoid leaving trash on the way to Machu Picchu.
If you have a camera, capture every moment and landscape; remember that opportunities sometimes come only once, and this can be a great memory.
Regarding your diet, if you are vegetarian or vegan, you should communicate this before or when making the reservation with the agency.
Additionally, bring pills and mosquito repellent."