Hello travelers, we continue our journey here in Cusco and I want to let you know about all the attractions through my experiences, each destination I was able to have a different feeling and it was impressive, I take the best memories of Cusco that I visited in just seven days.
Travel Guide to visit classic Cusco in 7 days
You have a short vacation, but you want to know one of the 7 wonders of the world Machu Picchu, then you have to do this essential trip in just seven days and gives you time to know its most visited attractions of Cusco.
Why visit classic Cusco in 7 days?
Cusco, is one of the most visited tourist places in Peru, because the majestic city of Machu Picchu was built there, we can appreciate other archaeological attractions, an exquisite cuisine and the warmth of its people that makes you feel at home.
What is the best date to plan my trip to Classic Cusco in 7 days?
As far as I could observe the best season is the dry season that goes from April to October. In these months there is no rain and it is advantageous to visit Machu Picchu, 7 Colors Mountain or the Humantay Lagoon (places that are more than 4,000 meters above sea level) and during these months you can see in its entirety its Inca constructions, landscapes.
I feel my heart beating with happiness at last I arrived on Peruvian soil, but I have not yet arrived in Cusco, I am in the capital Lima, waiting to take another flight to reach the city of the Incas, and recharge my energies.
Day 1: City tour in Cusco
This is my first day in Cusco, I can't believe it, I'm in the city of the Incas, a magical, mysterious and fantastic place, I still feel like I'm in a dream. Well, I settled in my hotel and practically this day I rested to adapt a little to the climate and the environment; and that I am an adventurer.
What to see and do in Cusco?
Each place is different, so I recommend that you acclimatize the first day in the city of Cusco, do not eat very heavy food, drink coca tea in case you feel pressure in the chest, dizziness and preferably walk through the streets so that your lungs adapt to the air.
What I did that day was to make a City tour in the afternoon and walk around the city of Cusco, where I met the majestic archaeological fortress of Sacsayhuaman, a magnificent and incredible place, its huge stones, perfect carvings and the incredible thing about this is that they are well connected to each other because not even a needle can pass between the stones.
In the place there are several constructions, it is said that this could have been a very important religious temple and not only that, you can also see chincanas that lead to other sites one of them leads you to the Plaza de Armas of Cusco, as well as this there is another, but for security reasons were covered.
There is only one small one where you can pass through, it has squares, streets; you should also know that here takes place one of the biggest festivals the Inti Raymi or Fiesta al Sol which is held on June 21.
Then we visited Qenqo, Pucapucara and Tambomachay other archaeological remains are part of the archaeological park of Sacsayhuaman and that meant a lot in the pre-Inca and Inca time. Each of these had a different function, for example in Tambomachay they worshiped the water, or Qenqo which means temple or place that has monkeys and other huacas with great significance.
We also visited the Cathedral of Cusco, wauuu… I was fascinated with everything you can see inside, everything is colonial, the paintings are spectacular and beautiful are by Cusquenian artists, the main altar is another of its great religious representations, among other beautiful things that are part of the temple,
Then I went to the Temple of the Sun or better known as Qoricancha, a very important religious center on which is built the Convent of Santo Domingo. In itself there are several attractions to visit … I lacked time to go to its museums, streets, but happy because when I return to this beautiful city I will return knowing something more.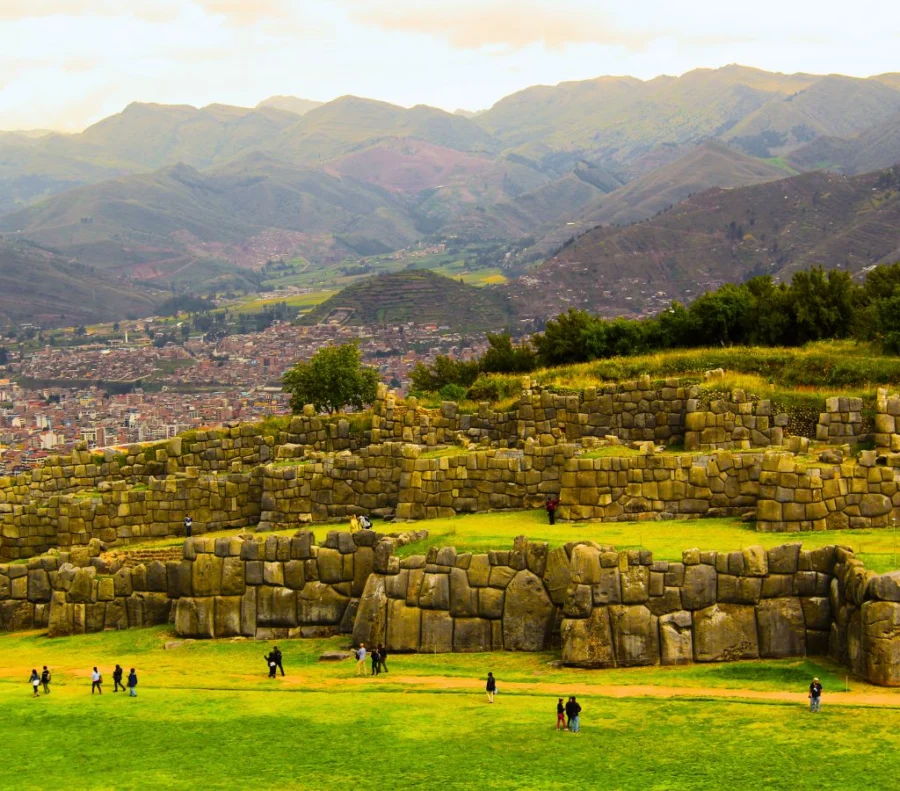 Where to eat?
I won't make many descriptions here because I didn't have the opportunity to go to all these restaurants, but I will mention the most popular places and some that I managed to go to.
San Pedro Market, is a mandatory site that every traveler must visit, is just 10 minutes from the Plaza de Armas you can walk; once inside the market you will see a festival of flavors, colors, shapes and more because there are sold everything.
The market is divided by sections, there are handicrafts, juicery, fruits, foods, herbalism, flowers, vegetables, nuts, grains, breads, meats, breakfasts among other stores; if you want to try the traditional dishes of this beautiful city you have to do it and go to the extra food section.
Here they serve a delicious chicken broth, lamb, fried malaya, apanado, baked guinea pig, among other dishes that you can only find in this place and I assure you that you will not regret it, once you try it you will love it, I assure you because the same thing happened to me.
Organika Peruvian Restaurant, is one of the restaurants that you should also visit, since they have light dishes, and with organic products taken from their own garden, this guarantees extravagant dishes and typical of this place.
It offers pizzas, soups, chicken, trout, fish, fruit, pasta, salads and desserts perfect for tasting Peruvian food.
Ñaupa, is another restaurant that cooks based on typical products of the region, but gives it an international touch, although there is a detail that you will only find here; the meat is cooked on the stone or their soups that are rich, they are light and you can consume it so that they are not too heavy.
Another option that I could also see is to go to the restaurants that are located in the center of the Plaza Mayor, the food is delicious, the truth is I do not remember their names I'm bad with that, but if there are restaurants that offer good Cusquenian dishes, it is a matter of searching or asking and you will see that the population will help you.
Where to stay?
This is a good question, sometimes it can seem tedious to look for a good place to rest, well in my case I booked in advance at the hotel I was going to stay, this will also depend on the season, if it is high season you have to book months in advance.
But if it is low then you can find rooms, but do not worry there are also hostels or lodgings beyond the historic center. Now in case you do not know or are afraid to book a hotel you can go to recommended sites like TripAdvisor where you can see the opinion of users and book.
If it can happen that there are scammers because it happened to me once; so now I prefer to resort to that page TripAdvisor or there is also another way to rent rooms and Airbnb where they are more comfortable because they are like your home, if you want with breakfast and lunch service that you would have to coordinate it, but it is not a bad idea.
My Recommendations
Walk through its ancient streets, its markets and churches that show the course of its history.
Try the traditional foods sold in the traditional picanterias such as the famous baked guinea pig, fried trout, its frutillada.
Have cash, as some of the stores do not have a bank account.
Day 2: Sacred Valley of the Incas
The next day I start my trip and I go to the Sacred Valley of the Incas, here I will know several places like Pisac, Chinchero, Ollantaytambo, each place offers you: beautiful landscapes, mountains, snowy, animals and more things that make this trip unforgettable, follow me that I will tell you here some things I could feel and see, how I will also make you some suggestions that may be necessary.
What to see and do in the Sacred Valley of the Incas?
Well, I waited many hours to begin my journey through this beautiful land, we left very early from our hotel towards the Sacred Valley with all the energy, enthusiasm and above all not to miss every detail of each of the sites.
Before traveling, I had breakfast at the hotel and while waiting for the car that was going to pick me up and go around the Sacred Valley. Once on the way to the archaeological sites we pass through several villages, one of them is Ccorao where we make a stop at the handicraft market Yawar Maki San Blas in that community.
Here we will find a variety of handmade products such as hats, sweaters, shawls, ponchos, gloves and others that you can buy and in this way we collaborate with their work and economy of the people.
Continuing with our trip we go to Pisac to visit the handicraft market and its archaeological site, on the way we can appreciate its imposing mountains that guard the town and we can see the Vilcanota River that crosses the middle of the Sacred Valley.
We arrived at the Archaeological Park of Pisac, but first of all you should know that to enter the archaeological sites you must purchase a BTCI Tourist Ticket, only with this ticket they let you enter: Pisac, Ollantaytambo, Maras, Moray, museums and temples of the city of Cusco and you can buy it with the help of a tourist agency as I did, or you can also go to Av. El Sol where Cosituc is located only they sell it.
Well, we arrived at the Archaeological Park of Pisac and proceeded to enter with our ticket with our guide who will accompany us throughout our journey through Cusco and explain each site. Our friend Carlos (guide) told us that Pisac is a Quechua word that means Partridge and was given that name precisely because the archaeological site was shaped like that bird.
It was built by the emperor Pachacutec, and is composed of a system of terraces, streets, temples, squares and what is striking is that around it is a very large Inca cemetery, as you know the Incas had the custom of burying their dead with their belongings.
When this place was found, several people looted and destroyed part of the cemetery, now you can see only the graves and some skeletal remains of the ancient inhabitants.
The place has an incredible view of the town of Pisac, after visiting the archaeological site we descend to visit the handicraft market where a variety of products ranging from sweaters, hats, gloves, ponchos, shawls, jewelry, souvenirs, and more that are worth buying.
We must leave this town to continue our journey to Ollantaytambo - Urubamba.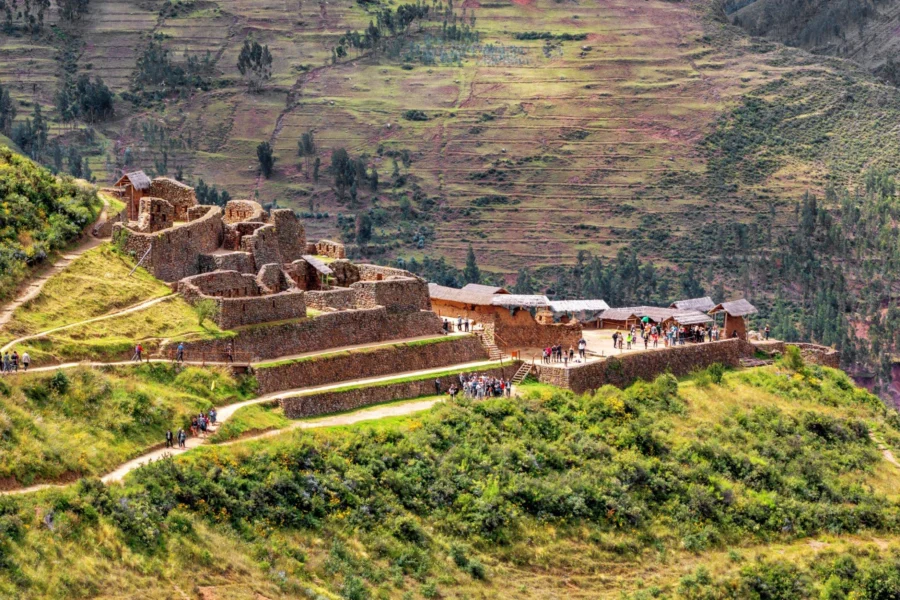 Where to eat?
On the way to Urubamba we stop for lunch, it is the tastiest time of the day heheheh…I was too hungry, because this was a long trip. We went to a tourist restaurant, the place was booked by the agency I am traveling with, but don't worry because there are several places like small restaurants around the place so you can have lunch.
After lunch we went to the Archaeological Site of Ollantaytambo, this was another of the centers that I wanted to know; we are at 2,800 meters in one of the most important archaeological zones, since Ollantaytambo is characterized as a military center.
What is striking about this archaeological complex is its architecture, you can see the immense, not that I say its gigantic stone walls for its large monoliths and terraces that are shaped like bleachers, really a masterpiece of engineering and architecture.
Here we will see the Temple of the Sun, it is at least 4 meters high and two meters wide and what surprised me a lot is that the rocks were brought from about 6 km away and the most surprising thing is that the geography of the place is not flat, then the question would be how they did to bring to this point.
I continue to be surprised because from where I come from I had never seen so much history, Inca architecture and Cusco has it all, I've been here for two days and I'm surprised with everything I find. Leaving the archaeological site you will find the handicraft market where they offer a variety of products made by the locals themselves.
But undoubtedly, to know this place is very interesting, due to its greatness was declared as Cultural Heritage of the Nation in 2002 and as I had told you before to enter this site you must have your Tourist Ticket, it will depend on what kind of ticket you want.
After visiting Ollantaytambo, we go to Aguas Calientes town, we travel by train to this place, I did it in the Expedition service which has a view of the entire landscape, there is a show of traditional dances, they give you some complimentary snacks and there is a parade with alpaca garments; the truth was a very energetic trip, I enjoyed it very much.
Once in town I stayed in a hotel that the agency had already booked, a very charming place, it is as if it had its own life.
My Recommendations
Buy before your Integral or Partial III Tourist Ticket so you can enter Ollantaytambo.
Don't forget to bring your ID or passport Bring water, hat, sunscreen.
Bring water, hat, sunscreen.
Wear hiking shoes, your feet will feel better.
Day 3: Visit Machu Picchu Historic Sanctuary
The night before I stayed in the town Aguas Calientes, that night I went for a walk around the town, it is small so you can hardly get lost. Most of the restaurants, bars, discotheque are open all night.
Well, I was left with the desire to do more things because I had to rest to go the next day to one of the seven wonders of the world Machu Picchu.
I forgot to tell you, when I saw Machu Picchu I felt like I was on an island, surrounded by huge mountains, watching the river go by in the middle of it, its small birds, it really is a dream town.
It is morning and I have to get ready to go up to Machu Picchu, but first we must buy our Consettur bus ticket to go up and down, in my case I bought only up and down on foot, it was one of the best experiences because you can feel the breeze of the wind, see the flowers, trees, listen to the birds singing.
The sound of the water, although I'm not going to lie, not everything is perfect during my descent I could see that the path is not so safe, because you can slip and fall to the bottom, so I recommend that if you are going to descend you should have your eyes wide open and step safely.
But all the way very nice, I love the greenish landscape, and to go down all that way you must have good physical endurance, from my experience when I got to the base of the mountain Machu Picchu my legs trembled a little, so I say that you must have endurance in the legs otherwise everything was wonderful.
What to see and do in Machu Picchu Historic Sanctuary?
The bus leaves us at the entrance to Machu Picchu and from there you must present your documents at the entrance gate and go up a small road until you reach the Historic Sanctuary of Machu Picchu.
The truth is that I am very excited to get here, I feel my heart beating, I feel that it is going through many little worms; because it is what I have wanted for a long time, as they say to see it with my own eyes and feel all the positive energy that this magical place generates.
I lack words to describe everything I feel, I am really very excited and impressed to see all that construction that the Incas did, it is incredible to see all those buildings on top of the mountain, being in the jungle and beyond to see the Andes mountain range.
Wauuu…😲 seriously it is something unique that only you can feel it, that's why I say that if you have not yet visited this Inca wonder do not wait any longer, take a flight and land in this place of dreams.
Well, I don't want to tire you with all that excitement I felt hahaha, now I will detail everything you can visit in a general way.
What we will see are the buildings all made of finely carved stone, divided into sectors, one where the royalty lived and another of the people. You can see a Sacred Square, the Temple of the 3 windows, the priest's house according to the guide told us that here spiritual ceremonies were performed, worship.
There is also the main Temple and some spiritual enclosures and what surprised me about all this is that in each room there is a kind of trapezoidal shaped niches.
The guide explained to us that in these places the Incas used to place their deities to venerate them, it is impressive because each house or room always had these trapezoidal windows or niches.
We also see the royal tomb that is under the Temple of the Sun, it is carved from the same mountain. Another archaeological remains we see the Intihuatana, a very important element for the people of that time, this served as an astronomical observatory and is amazing.
You can see the agricultural system, as a set of terraces that is located in the lower part, according to the guide tells us that this is where the sowing of products was done, you can see fountains where the water passes nowadays. Also, you can see that Machu Picchu is surrounded by large mountains such as Huayna Picchu, Machu Picchu Mountain, Putucusi Mountain.
It has a spectacular view, you can take a classic picture with the background of Machu Picchu, there are llamas that you can call you if you are lucky of course, because they tend to escape, then you can take pictures in the other buildings.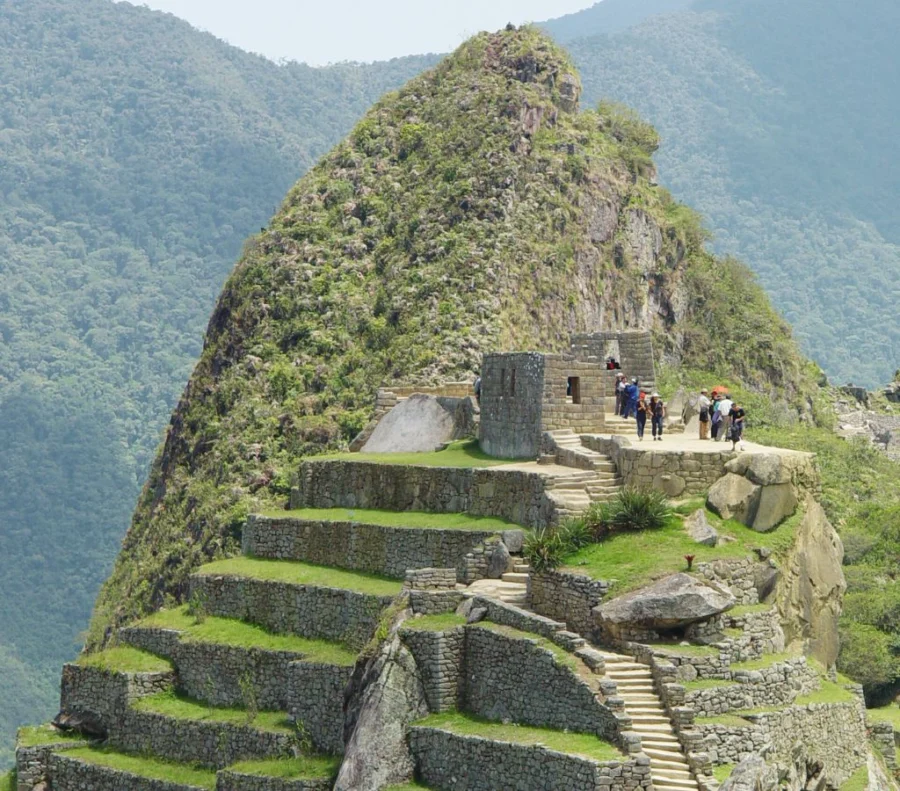 Where to eat?
Well it will depend on where you want to go, well in the Historic Sanctuary itself there are not many places to eat, we can only see the restaurant of a hotel that is located on the outskirts of Machu Picchu archaeological site, of course the cost is higher than normal.
Now, what I did was to go down to the village and look for the best options, but anyway I will recommend you to eat inside the market, it is good, tasty and at a fair price, but in the surroundings the restaurants will charge a higher cost and there are good dishes to choose from.
Then it will be up to you which of these options you want to go to. This is a part of my experience in the majestic Inca city of Machu Picchu.
My Recommendations
To enter you must have your identity card or passport, along with your entrance ticket to the citadel.
You have to take into account that to visit Machu Picchu and go to where the classic photo is taken, you must buy the circuit.
As you will see there are 4 circuits to enter, I leave you a link to see all the circuits https://www.machupicchu.gob.pe/circuitos-establecidos/.
Procura llevar ropa cómoda, sombrero, repelente de mosquitos, bloqueador solar.
Bring water in your tomatodo or canteen, because it is not allowed to enter plastic bottles, and if you enter try not to vote it inside the archaeological site.
If you are going to take pictures, only cameras and cell phones are allowed. Tripods, selfie sticks, drones or any other production equipment are NOT allowed because they can damage the Historic Sanctuary.
After visiting the citadel, in the afternoon we return to the city of Cusco, we return by train to Ollantaytambo and then to Cusco city to rest to continue our next trip.
Day 4: Hike to 7 Colors Mountain
Very early in the morning we are picked up to go to the Mountain of 7 colors, the arrival time is approximately 2 to 3 hours, where we pass through several villages, and we stop at a restaurant for breakfast (this includes the tour) and go strong to get to the mountain.
Once finished breakfast, we continue our way to this tourist attraction, in one of the villages you have to pay a cost of 10 soles which is for Peruvians and 20 soles for foreigners, this we must pay, so you should bring cash to pay and you can also buy water, snacks.
Finally we arrive at the trekking point, after a 3 hour trip, we are in the place and we leave with our guide who will accompany us throughout our journey, but first he will give us a magic water that they call it and it helps us to breathe and somehow or another way to combat altitude sickness.
He tells us that we will arrive in about 1 hour or depending on our hike, but that is the time, but our whole group is excited to get to the top and our enthusiasm makes us not get tired.
Along the way you will see several people who are already climbing at their own pace, you should know that for trekking we must have the right shoes. Some people feel that they will not be able to reach the top of the Vinicunca mountain, they rent a horse that is at the beginning of the trail for about 60 soles, this cost is additional, it is not covered by the travel agency.
Well, you will see that some people go on horseback, but most of us who travel prefer to walk because it is the most beautiful part of this trip, it is recommended that you go at your own pace, because if you run you may get dizzy because of the altitude;
We arrived at the middle of the road, we rested for a while here and our guide invited us to chew coca, he indicated that coca leaves give us energy, it takes away the ground, it takes away the hunger.
The process of chewing is by grabbing a small amount of coca leaf, fold it and put it to the side of the teeth and proceed to chew, but be careful, only the juice that comes out of it has to pass, and the crushed leaf is voided. He also told us that at the time of the Incas they exchanged it with other products that they brought from other regions.
At the beginning it seems a little bitter, but to sweeten it yicta (made of quinoa with sugar) is used, the coca leaf is eaten with this sweet only a small portion and curiously changes the taste of coca, I did not know that coca was eaten that way, but it helped us incredibly on the road.
The road was a little difficult, because we are climbing approximately at an altitude of more than 5,000 meters high, we climbed slowly, I was short of breath, I felt I could not go any higher, however it was possible; the last stretch is a high slope in which we all suffered, the truth is a never-ending climb …. I swear I got tired.
If you feel nauseous or feel that your heart is beating too fast you should take a short break, to arrive in optimal conditions to see such a wonder of unique colors.
Officially, we have arrived at the Arco Iris or Vinicunca mountain and I was impressed by its beauty, its colors and the landscape that surrounds it, I was also impressed by the amount of commerce that there is, you can even feel a strong smell because they sell alpaca pork rinds there; but this is in the lower part, we have to get to the upper part to see the landscape better.
We arrived and no, I can't believe it, we are friends in one of the most beautiful landscapes I have seen in all my life in all the countries I could visit, it is a very beautiful place, it is worth the climb. If you want to take the best pictures you must be at the top and your pictures will be incredible, you will have a classic photo.
Being at the top is the best, breathing fresh air, seeing the huge sun bordered by a rainbow halo, the best day to visit, actually I was too lucky, it feels very nice…lots of tranquility, peace.Being at the top is the best, breathing fresh air, seeing the huge sun bordered by a rainbow halo, the best day to visit, actually I was too lucky, it feels very nice...lots of tranquility, peace.
After visiting the mountain, taking too many pictures, tasting the delicious alpaca chicharrón and resting…but with much regret I say that we have to return to the city of Cusco.
Before we stop on the way to have a buffet lunch, the restaurant we went to had the food already cooked. There were potatoes, sweet potato, lomo saltado, chicken, rice, quinoa, pasta and salads, you can serve yourself the amount you want, because walking such a long distance makes an intense physical wear so let's eat 😋.
And we continued our trip to Cusco, I was very tired so I fell asleep and I could not see the landscape anymore, we arrived in the city at about 5:30 in the afternoon, we went to rest at the hotel to continue our trip for the next day.
The guide told me that this tour is not very tiring and we will make it easy, because I am really tired.
Where to eat?
We stop near Cusipata, there we have breakfast and lunch, the agency I hired to go to the mountain took care of breakfast and lunch;
You can't stay here, it's just a trip to see, take pictures and then you have to go back to the city, the reason is because it's only a few hours away from the city, so it's normal.
My Recommendations
Wear warm, comfortable clothes that you can take off when you feel hot and store them in your backpack.
Always carry your identity card or passport.
I advise you to pack your hat and sunscreen.
Wear hiking shoes, your feet will thank you for it.
You can bring coca candy, water, alcohol or agua florida will also help you.
Day 5: Moray - Maras salt mines
This time our trip is only a few hours from Cusco, we went to the salt mines of Maras and Moray to know the greatness of these places, you should know that to visit these attractions you must have an entrance ticket, which is purchased at the offices of Cosituc https://cosituc.gob.pe/.
Well, this day we start getting up early to visit Maras and Moray, before we have to have breakfast, although also the hotel where I stay offer breakfast, but if you want you can do it there; I preferred the market of San Pedro and I suggest you this place if you like a traditional breakfast, because its inhabitants usually have a good breakfast here.
This consists of a good chicken broth, chicken or marinade many told me that it is a dead pick me up, because it recharges your energy, but if you want something soft you can take a fruit juice or while your bread with cream and chocolate or coffee also served in the market.
After breakfast, I go to the meeting point with the mobility who will transfer me to the Moray and Maras, the arrival time is approximately 1 hour and a half, during the trip you can see the impressive nature that surrounds the villages;
We arrived at the Salineras de Maras, I did not know it was so big; this is a divine place and attracts a lot of desire to visit it, because I saw only in photos, but it is something else to see it right there and I had no idea it was so big.
You can see about 3,000 salt wells and we are told that three types of salt are cultivated here: the first is flor de sal, which is a fine salt that is consumed at the table, the second is pink salt and the third is medicinal salt.
What the guide told us is that each well belongs to a member of the community, there are others that have more than two wells and they are in charge of extracting the salt and then sell it.
After visiting the Salinera de Maras, we go to Moray. It is the first time I come to this place, I was really impressed, and the scenery is breathtaking surrounded by beautiful snow-capped mountains, mountain ranges, the roads are beautiful; and as I said to enter we need our entrance ticket BTP.
I am on my way to what was an agricultural laboratory system of Moray and I could not believe what I am seeing, let alone imagine it. These are circles or terraces where different products were grown.
Actually I was amazed by its advanced culture, we went down to the lower part to get a closer look at this laboratory, the researchers point out that the circular terraces of Moray functioned as an agricultural research center in which each level offered a different climatic environment, thus allowing the cultivation of different plants in an experimental manner.
It is impressive to see the crystallization of sodium chloride that results in the white color that is known as flower of salt, to get to that goes through a process. After visiting these attractions we return to the city of Cusco.
Approximately the whole tour lasted until 2 in the afternoon and it was an incredible experience to see the Inca work, I am satisfied with this trip because I learned a lot and I took many pictures for the memory. If I had another opportunity to return to Cusco, I would do it without thinking twice, because every place transmits you an energy.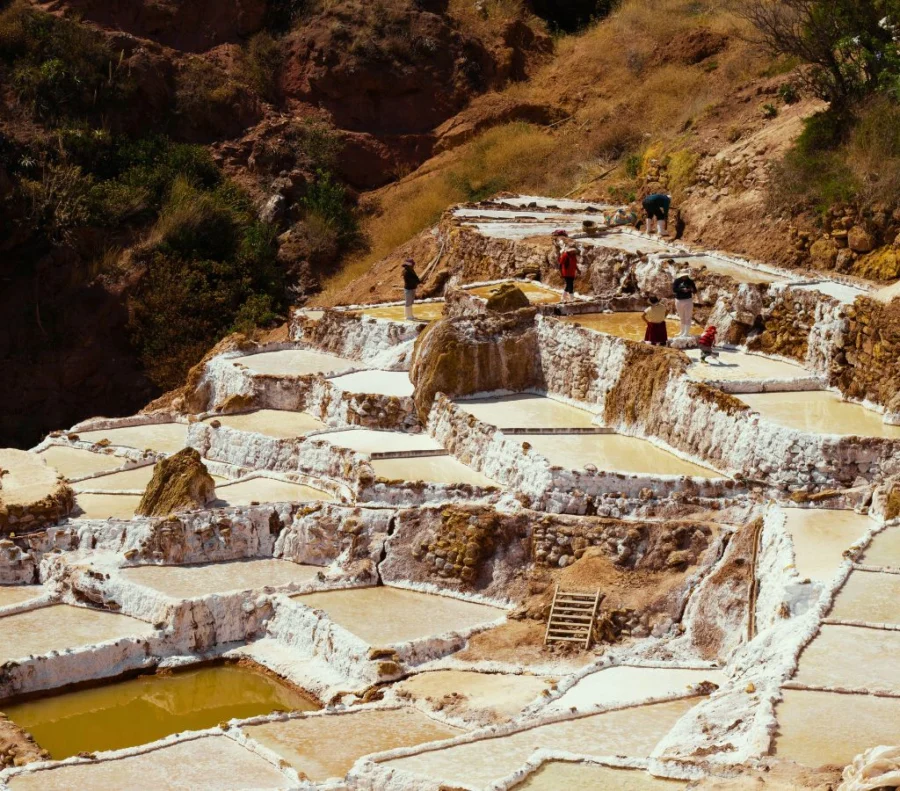 My Recommendations
Don't forget to buy your entrance tickets to Moray and Maras.
Bring warm and comfortable clothes, hat, sun block, water.
If you want to take several photos, don't forget to load your camera.
You can buy some handicrafts sold by the villagers in Moray.
Day 6: Humantay Lagoon
Sadly, I say that this is my last day of travel in Cusco 😢, I visited the Humantay Lagoon an imposing place that has a turquoise color and the amazing thing is that there is a snowy above it.
To make this trip we had to leave Cusco very early in the morning and live an experience unlike any other, so far.
I had never seen such an impressive landscape, mountains that measure more than 4000 meters of altitude, we leave Cusco to Mollepata which is our first stop, here we stop the trip to have breakfast.
My breakfast consisted of fruit, juice, oatmeal, pancakes, coffee, chocolate, I enjoyed breakfast. Of course, you don't have to have everything for breakfast, you choose. We had breakfast in the town of Mollepata and from there we left to Soraypampa, from this place begins our hike.
Before you must pay your entrance fee, if you are a national tourist you pay 10 soles and if you are a foreign tourist you pay 20 soles, well we continue with our trip to the Huamantay Lagoon, the arrival time is 1 hour to 2 hours; it will depend on the hike you do.
You advance and in front of you you find an imposing snowy, hear the sound of the river, vegetation and also horses that move people who have difficulty walking, but the beauty of this is that while you walk you will see the impressive snowy.
Almost upon arrival you will see some hives of houses, if you want you can stay here and see the stellar dimension, and we continue ascending to the lagoon. Perhaps the climb can be tedious, because many of us get tired, since we are at an altitude of more than 4, 000 mts.
However, we all get there hehehehehej,,,although very tired of course, I spent several minutes and finally arrived and the first thing I saw was the color of the water, I found it impressive.
The funny thing was that when I was already arriving and it started to rain a little, and when I was already arriving the rain stopped and the sun started to come out, a curious situation but at the end interesting.
Once here, I was ready to admire this incredible snow-capped mountain, then I took some pictures for the memory; another thing is that the guide taught us to make a payment to the earth, we prayed and then we offered our cocas to the lagoon.
After spending some time, we set out to descend to the starting point, the first descent is a little difficult because it is a slope and almost most people usually fall, so you must be careful when descending, a tip: step hard and you will not fall.
The car is waiting for us to return to the city of Cusco, this time we make a stop in the town of Mollepata for lunch, in this case we were given a buffet consisting of three different dishes, vegetables and dessert. Once lunch is finished, we are again on our way back to Cusco.
We arrive in the city at approximately 6:00 p.m. and are dropped off at our hotel to rest after a hike.
Here a tip, after visiting and having rested you can visit some places, the options can be to go to the viewpoint of San Cristobal gives you a night view of the whole city, go to restaurants that offer traditional foods and some drinks like pisco sour.
Where to stay?
There are several options to stay, as I said in the beginning you can stay in a hotel or an AirBnb, some of them give you breakfast, of course with previous agreement. Now if you want to economize
My Recommendations
Rest as much as possible to enjoy the hike.
As we are going trekking I recommend you to have trekking shoes.
Wear warm clothing.
Hire the services of a travel agency, I traveled with Terandes.com.
Day 7: Last day in Cusco
I feel very sad, I have to go back to my country and I don't know when I can return; however I leave very happy, recharged with all the energy I felt in Machu Picchu, Sacsayhuaman, Qoricancha and more.
Each site is magical and unique, I take with me new experiences, some friends that I was able to meet on this trip. To all travelers who have not yet managed to travel to this beautiful city of Cusco have to do it, feel that magic that every Inca town emanates recharges you with energy.
The surprising thing about this city is that it does not only have Machu Picchu, as I thought at the beginning; practically the whole city and its surroundings is surrounded by Inca archaeological remains, its streets, houses, temples, and even its ancient markets have history, it is difficult to get bored because each place has something to tell, its people themselves.
This day is free according to the schedule of my trip, and if you leave in the afternoon then you can still visit the San Pedro market and buy some souvenirs and walk through its squares for the last time; after walking a little I went to the Chomba Aja Wasi (located in the San Francisco square) to eat my chicharrón de chancho a delicious dish, ahh you should not leave without having tasted frutillada.
Remember, you have many options to know this beautiful city, it is difficult to get bored because you find every surprising thing, its food is delicious, there are Sunday fairs, its people are warm and friendly and the city is very quiet to walk day and night, a good point to spend your vacation and relax from the exhausting world you live in.