With more than 300 years of antiquity, the Monastery of Santa Teresa of Arequipa, receives every visitor to show its valuable religious treasures captured in different works of art, present in a Living Museum of exhibition for everyone who travels to the city of Arequipa.
Monastery of Santa Teresa of Arequipa, history
The Monastery of Santa Teresa was founded in 1710. After many years, the Community of nuns opened the Museum of Viceroyal Art on June 16, 2005, with the objective of rebuilding the Monastery due to the damage caused by the earthquake of 2001, to present hundreds of objects from important collections belonging to the old Cloister of the Offices of Peru from the XVI to the XIX century.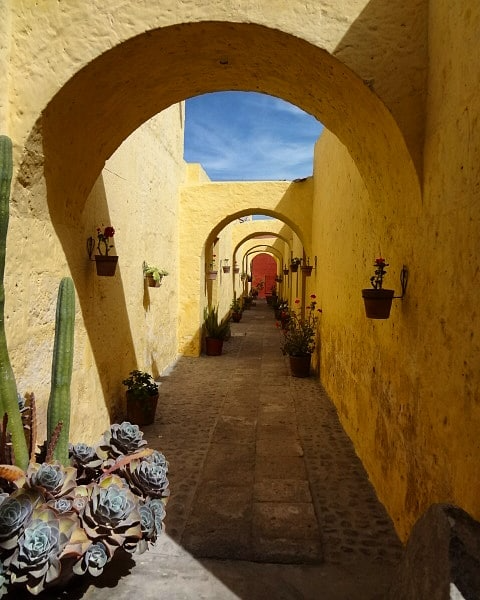 What to see and do in the monastery of Santa Teresa in Arequipa?
It is named as a Living Museum because the spaces and elements it has are still in use for more than 3 centuries, a place where you will hear the chanting and prayers of the nuns who live there. It has several rooms and exhibition spaces:
Viceroyalty Art Interpretation Room
Order of Carmel Hall
Nativity and Holy Family Room
Chapter Hall
Hall of the Passion of Christ
Church Saints' Hall
Virgin Mary Room
Everyday Life Room I
Everyday life room II
Hall of Angels and Archangels
Temporary Exhibition Hall
Cloister of the Offices
Patio de la Cerería
Yellow Corridor
It is important to have the necessary information about the Museum's opening hours, from Monday to Saturday from 9:00 am to 5:00 pm and on Sundays from 9:00 am to 1:00 pm.
At a cost of:
— 20.00 soles for the general public.
— 10.00 soles for seniors.
— 5.00 soles for university students.
— 2.30 soles for school students.
Location of the Monastery
The Monastery of Santa Teresa is located at Calle Melgar 303, in the Cercado de Arequipa.