This important attraction "The Chullpas of Cutimbo" are the best cultural expression that could leave us the people of Lupacas, Collas and Incas, with structures similar to Sillustani. Among the tombs that were found in the so-called "chullpas" that predominated by their size, although there were also smaller tombs that would be for those with lower hierarchy.
The monumental structures of the Chullpas of Cutimbo were of different shapes and each one of them represented something, for example the ones with square, circular or rectangular shapes were specifically for notable people.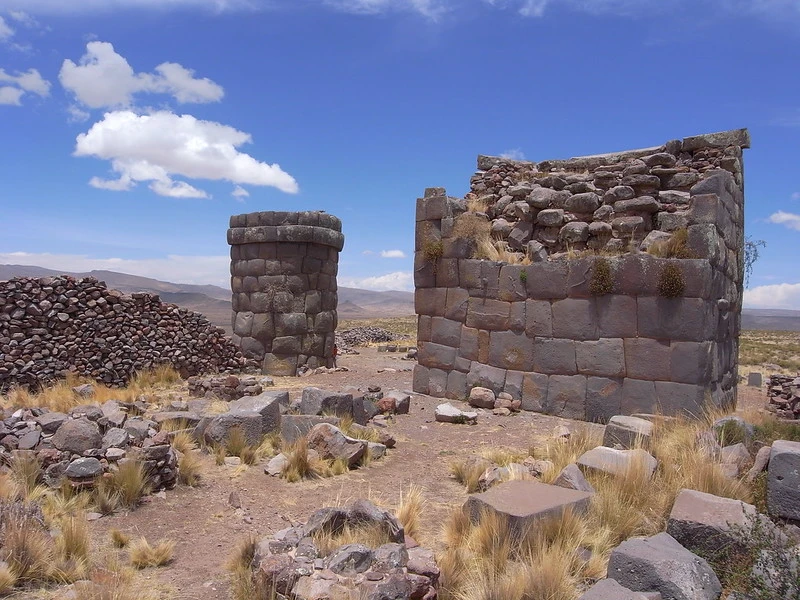 Regarding the interior, there was a mortuary chamber in the Chullpas that had the shape of a cone, a false vault and you can see some trapezoidal niches, same that were to put the bodies of the mummies.
But now we will wonder how all this construction could be achieved to perfection and carefully thought out in every detail. The Chullpas were made of carved lithic material in which each block was joined to the other with a minimum amount of mud mortar, each burial tomb only had a single entrance and was always in an easterly direction.
On the other hand, the smaller tombs were used for collective burials. The dead according to the level were buried in fetal position, wrapped in cloaks and offerings. Regarding the structure, the stone walls have a cylindrical shape and circular plan.
Actually there is much mystery to clearly understand the burials that were made, some say they were sacrifices and others claim that it was for a ritual purpose, because the bodies were then moved.
Cutimbo Archaeological Complex
The Cutimbo Archaeological Complex is a pre-Hispanic cemetery in which belonged to the Lupaca and Colla, as well as its cave painting that is 8000 years old; however, its structures show that they were from 1100 to 1532 AD.
In Cutimbo we find a variety of chullpas or pucullos that have different shapes and sizes (circular, square and rectangular). The origin of Cutimbo comes from the toponym "qutimpo" which derives from the root "qut" which means to return, "impuy" which comes from the Quechua or Aymara "vuélvete" which means "return yourself, right here".
Entry times
To get to this mysterious destination, you must take a bus from the city of Puno to the Cutimbo Hill, the trip takes approximately 25 minutes, once you get there you will have to walk for half an hour until you reach the Chullpas of Cutimbo.
Visiting hours are every day from 8:00 am to 5:00 pm, to enter you have to pay a nominal fee for both adults and students, I recommend that you visit the complex in the dry season.
Where is Cutimbo located?
The Cutimbo Archaeological Complex is 20 km southwest of Puno city, exactly in the district of Pichacani at an altitude of 4023 masl.
Why visit Cutimbo with Terandes?
Our travel agency Tierra de los Andes has the necessary experience to offer you the best tour in Cusco, Arequipa, Puno and all Peru as well as in Bolivia; we offer you detailed information about Puno and how to go through each of the tourist circuits, our professionals have the necessary experience to give you the best information and to know more about the legendary town.
Hacemos guiados tanto en inglés, español y Frances, somos especializados para hacer excursiones para parejas, amigos, familia, eres amante del trekking, nosotros nos encargamos de armar tu itinerario.
We have a variety of tours, for example Cusco Magic Tour, Amazon Iquitos Tour, Peru Honeymoon Tour, Peru Gastronomy Culture Tour and Ica Road Tour, Choquequirao Tour, etc. Our multi-day tours are customizable to your budget.
Images and Photos of the Chullpas of Cutimbo