If you want to find the best works in textile art and take a souvenir of your visit to the city of Cusco, you can not miss the Handicraft center.
The craft market has all kinds of souvenirs for different tastes, prices according to the quality of the material. Being a perfect space for art, known as the largest of all for having several stores, the same that has about 350 within its facilities.
The works exhibited are mostly Inca-inspired, as well as colonial replica paintings or a mixture of both. For the elaboration of the products they offer, alpaca wool is used, natural dyes and these are handmade with traditional techniques passed from generation to generation.
In this place you can buy:
Jewelry such as earrings, bracelets, and necklaces.
Wool and alpaca clothing.
Bags, backpacks, hats, and wallets.
Ceramic art.
Andean paintings.
Wooden altarpieces.
Jewelry with precious stones.
Andean musical instruments.
Home decorations.
Inca-themed articles such as notebooks, diaries, pencils and others.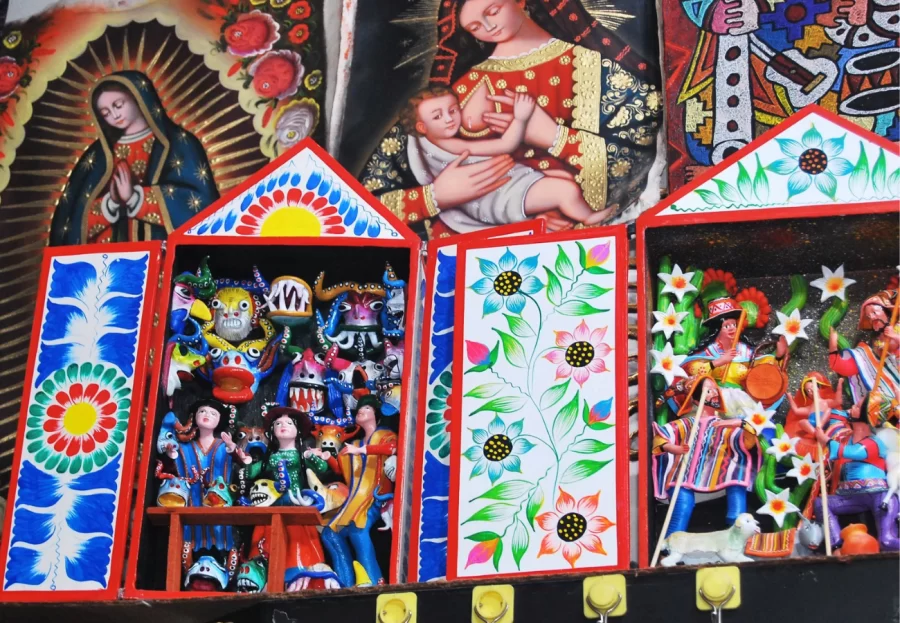 Where is the Cusco Textile Market located?
The Handicraft center is located at Av. El Sol and Tullumayo 28, in front of the water fountain named Paccha de Pumaqchupan in the city of Cusco.
How to get from the Plaza de Armas to the Handicraft center?
If you are in the Plaza de Armas or any part of the historic center, you should take a public or private transportation service to drop you off.
Another option is to go walking, for that you take the route of the Av. El Sol, you will pass by the archaeological site of Qorikancha and arrive at Paccha where just cross the track and you will be in the Handicraft center of Cusco.
Tips to buy handicrafts in Cusco
To buy quality products in handicrafts, it is recommended to ask and verify the material it is made of in order to avoid taking something that is not according to our taste.
It is necessary to ask for a payment slip or invoice to have the data of your purchase, you can also quote prices and choose the best option you find.